Neck Pain Persists Following ACDF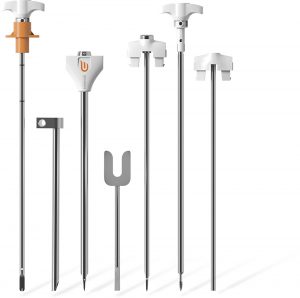 Three months after undergoing C5-T1 anterior cervical discectomy and fusion (ACDF), an active 60-year-old man from Florida began to experience recurrent neck and left shoulder pain. In an attempt to resolve the pain and return to his daily activities, he tried physical therapy, over-the-counter medications, muscle relaxants, steroids, and epidural injections, but his pain persisted. The patient traveled to Duke to consult with Michael Haglund, MD, PhD, a neurosurgeon who specializes in cervical spine disease.
Computed tomography at Duke confirmed solid fusion at all 3 levels but incomplete fusion at C6-C7. Magnetic resonance imaging (MRI) revealed a moderate disc herniation at the C4-C5 level, and flexion-extension cervical spine plain films showed hypermobility at the same level.
Question: How was the source of the patient's pain confirmed, and what minimally invasive approach did Haglund take to resolve it?
Answer: C4-C5 bilateral facet joint injection temporarily alleviated the patient's pain, confirming the source of the pain as the hypermobility at C4-C5, rather than pseudoarthrosis. Haglund performed a minimally invasive posterior cervical fusion with the DTRAX cervical cage system (Providence Medical Technology, Pleasanton, CA).
It was important that the patient undergo diagnostic testing and facet joint injection prior to surgery, Haglund notes. Without the tests, it might have been assumed that the patient's pain was due to C6-C7 possible pseudarthrosis. However, more central to the success of the case, he says, was the DTRAX device, which enables surgeons to perform minimally invasive cervical fusions on patients whose pain persists or returns following ACDF.
"In the old days, which was all of 18 months ago, to help a patient like this, we'd have to go in from the front, take the whole plate off from the anterior fusion that wasn't successful, and redo that level or approach posteriorly and split all the muscles in the neck and perform a posterior cervical decompression and fusion with instrumentation," Haglund says. "You're trying to get rid of neck pain, and what are you doing? You're giving the patient possible significant neck pain. And if it didn't fuse the first time, what's your guarantee that it fuses the next time?"
The new device, by contrast, is much less invasive, requiring only a small incision—less than an inch—on either side of the neck and takes less than 30 minutes. In this case, the patient returned home the following day and was able to return to the golf course within a month.
"With this new technology, we have the opportunity to advance how we take care of patients with cervical spine disease," Haglund says. "For someone like me who does more than 300 ACDFs a year, being able to have this in my armamentarium to avoid having to do bigger posterior fusions or big anterior removal of plates is a huge value added."