Support for Shared Patients
Our physician liaisons are clinically-trained health professionals who meet regularly with referring physicians with the goal of improving health outcomes for shared patients. Working with a physician liaison can help you:
Improve care coordination with Duke Health
Keep up-to-date on changes and enhancements to key Duke Health service lines
Streamline clinical workflows to promote higher-quality care for shared patients
Gain access to Duke MedLink – a secure, Web-based connection to Duke's EMR
Learn about our accountable care organization (ACO)—Duke Connected Care—and other opportunities to integrate more closely with Duke Health
To connect with a physician liaison, contact the Duke Population Health Management Office.
To refer a patient, call 1-800-MED-DUKE (800-633-3853).
Meet Our Physician Liaisons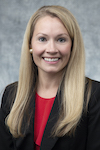 Holly Bradicich, MSN, RN, CPXP
Holly Bradicich has worked with Duke for 10 years. After graduating Watts School of nursing, she worked in orthopaedics at Duke Raleigh Hospital as a bedside nurse and a patient navigator. Most recently she served as the Manager of Service Excellence and Volunteer Services for Duke Raleigh. She holds a Bachelor of Science in Nursing from University of Mount Olive and is currently completing her MSN in nursing administration. During her role as a patient navigator, she developed a passion for tangibly improving the patient experience, establishing measurable outcomes, and helping team members elevate the care we provide our patients.
holly.bradicich@duke.edu | cell: 984-260-7399 | fax: 919-385-9521
Image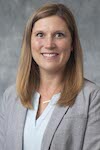 Abbie Faircloth, MHA, BSN, RN, NE-BC
Abbie has over fifteen years of nursing experience, specifically in critical care, cath lab, electrophysiology, and nursing leadership. Prior to joining the Duke Connected Care Provider Relations team, Abbie served as Director of Heart Services for Duke Raleigh Hospital and Wake County. She holds a Bachelor of Science in Nursing from York College of Pennsylvania, a Masters in Health Administration from Pfeiffer University, and she is Nurse Executive Board certified. Abbie has a passion for improving outcomes in the community through preventative health and access to services, as well as developing other leaders and healthcare providers to achieve healthcare goals for patient populations.
abbie.dickersheid@duke.edu | cell: 984-278-2266 | fax: 919-660-8667
Image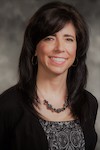 Michele D. Phillips, MBA, BSN, RN, CCM
Michele is a Registered Nurse certified in Case Management. She has 14 years of Case Management experience in the ambulatory, inpatient and insurance settings. She has worked with Johns Hopkins Healthcare and Florida Blue partnering with Primary Care practices to assist them in establishing a Patient Centered Medical Home. Michele's work experience includes, positions as the Director of Case Management at GBMC in Towson, MD and as the Assistant Director of Case Management at Duke University Hospital. She holds a Master of Business Administration from the University of Phoenix, a Bachelor of Science in Nursing from Villa Julie College and an Associate Degree in Nursing from Harford Community College.
michele.phillips@duke.edu | cell: 919-451-5187 | fax: 919-385-9389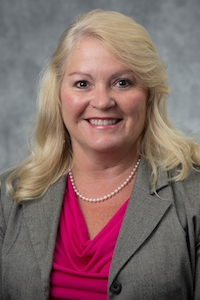 Lorie Robertson, BSN, RN
Lorie has been a nurse since 1996, and a physician liaison since 2004; working first at a private oncology specialty group and a community hospital before joining Duke in 2013. Prior to becoming a physician liaison, Lorie was an endoscopy manager, OB-GYN nurse manager, and a breast navigator, tobacco cessation specialist, and worked in a dialysis, orthopaedics, GI acute care and surgery center. She received her nursing degree at Sandhills Community College in Pinehurst, NC, and her Bachelor of Science in Nursing at the University of North Carolina in Wilmington.
lorie.robertson@duke.edu | cell: 919-812-7795 | fax: 919-660-1038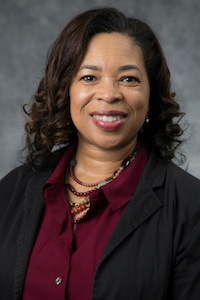 Marlena Scarborough, MSN, RN
Marlena has been a nurse since 1994, and has worked at Duke since 1998. She has nursing experience in many different areas of the health system, including the ICU, medical-surgical, case management, nursing education and nursing administration. Marlena has been a physician liaison since 2008. She received her Bachelor of Science in Nursing at East Carolina University and her Master of Science in Nursing from Duke University's School of Nursing in Healthcare Leadership.
marlena.scarborough@duke.edu | cell: 919-323-0997 | fax: 919-660-1036
Image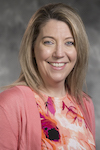 Anne-Marie Simpson, BSN, RN
Anne-Marie has worked at Duke for more than 12 years, the last five of which as a physician liaison. In addition to being a registered nurse, Anne-Marie has been a Patient Resource Manager, Duke Health Technology Solutions EMR trainer and educator, and a Duke University Hospital Finance Revenue/Project Manager. She is from Durham, and received her Bachelor of Science in Nursing degree from the University of North Carolina at Greensboro.
annemarie.hawthorne@dm.duke.edu | cell: 919-717-0133 | fax: 919-613-2316
Image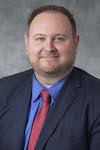 Jason M. Wheeler, DHSc., MBA, RMA, CMAS, AHI
Jason has worked in many areas of health care throughout his career. His work experiences include working as a medical assistant, health center administrator, clinical operations director, and director of physician operations within Duke, UNC, and private practices in the Triangle. He holds an MBA from Northeastern University and a Doctorate of Health Sciences from A.T. Stills University. Jason has taught medical assisting for local community colleges and is an associate professor in the Health Administration program at the University of Arizona Global Campus. Having a diverse background has given him a unique perspective on healthcare, both clinically and operationally.
jason.wheeler@duke.edu | cell: 984-278-2267 | fax: 919-660-8685