When a 21-year-old woman was involved in a serious motor vehicle accident, a significant portion of her distal tibia bone was lost at the scene of the accident. A community provider in her home state placed her injured leg in an external fixator frame until a follow-up care plan could be established.
Inactive, in pain, and unsure of what would happen next, the woman wore the frame for two months before being referred to Duke foot and ankle orthopaedic surgeon Samuel Adams, MD.
"There was a lot of bone loss, but it was definitely worth salvaging her leg even though many centers would have probably amputated," says Adams. "I immediately thought of implanting a 3-D--printed cage to replace the lost bone."
Adams consulted with colleague Ken Gall, PhD, chair of Duke's Mechanical Engineering and Materials Science department. Gall recently founded restor3d, a 3-D printing company formed out of his research group at Duke.
Using the patient's CT scans and in consultation with Adams, engineers designed and printed a custom implant—a large, 4-inch piece of porous and solid titanium that would replace the patient's damaged distal tibia.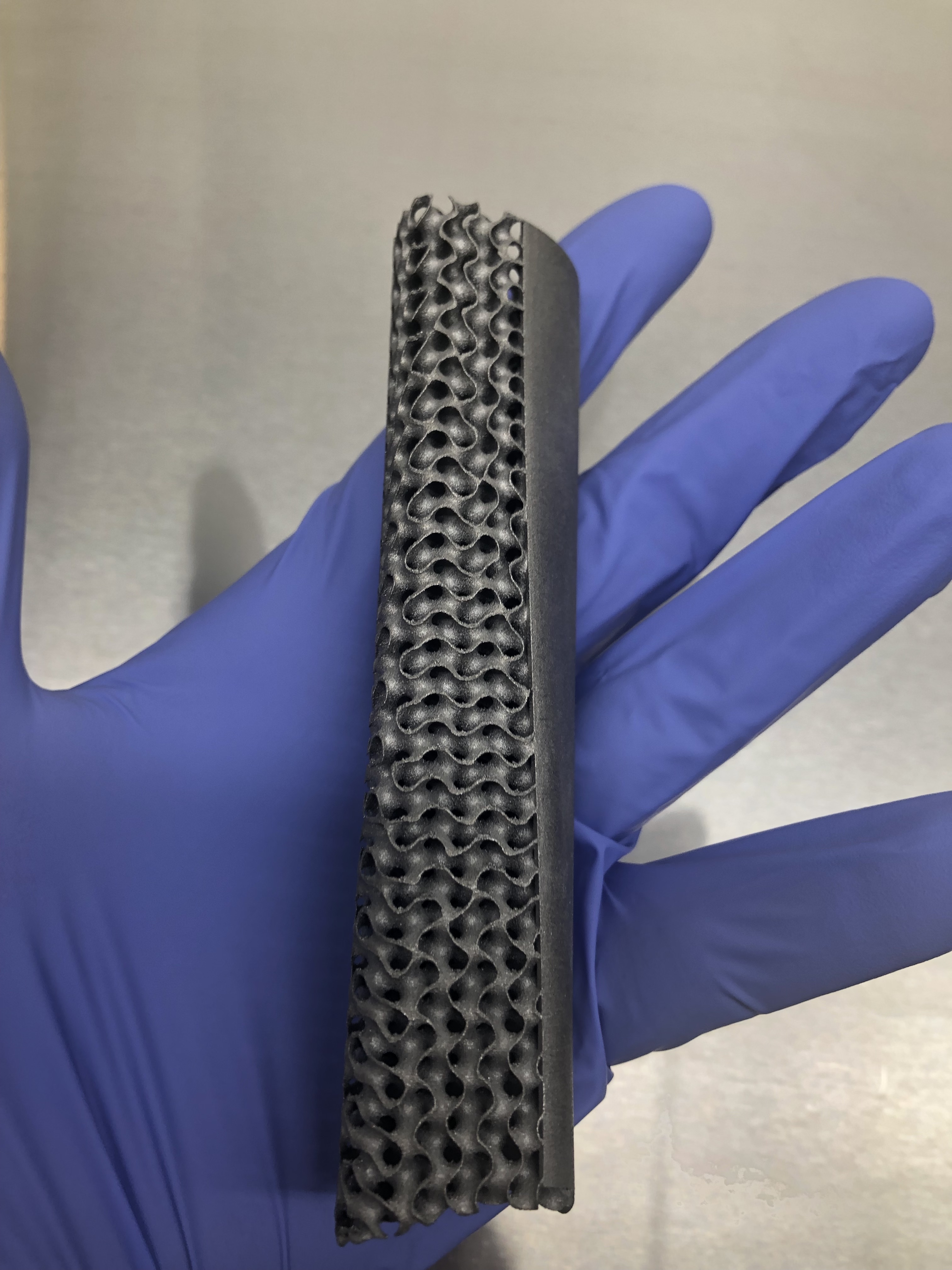 The challenge with leg or ankle implants, says Gall, is that they must be designed to be weight-bearing during the healing process, but must also promote bone growth; other complex factors include focusing careful attention not only to designing the anatomical external shape of the implant, but considering the ways in which each patient's bones might grow based on their anatomy.
"We're actually replacing part of a patient's skeletal system," he explains. "We have to design the implant so it holds the bone in place as it heals and then becomes a permanent replacement for any missing bone." Implants are expected to last for the patient's lifetime assuming the bone regrows. 
The surgery was successful and the patient recovered at home with minimal postoperative pain, returning to work soon afterward. She wore a non-weight bearing boot for six weeks, then began physical therapy to strengthen her lower extremities.
"She had an excellent outcome and I anticipate the bone will grow very quickly into the 3-D cage until it's fully incorporated into her body," says Adams. "Although she won't regain a full range of ankle motion she'll be able to engage in most any activity she chooses."
Adams encourages providers to consider referring patients to Duke Orthopaedics for treatment of critical-sized bone deformity, defect, or bone loss. "We can usually tackle it with a 3-D—printed implant, and by working with Gall's team it usually only takes three to four weeks to create the implant," he says.
"Dr. Adams is a world leader in this type of orthopaedic reconstruction," says Gall, "and as a world-renowned research institution, Duke as a whole is very skilled at carefully studying new technology, thoroughly weighing its potential risks, and steadily implementing it into patient care."