Children with neurofibromatosis are particularly prone to the development of bone deformities, especially in the lower extremity. For a young man in his early 20s, 13 surgeries had failed to correct a tibial deformity caused by the disease. He wanted to be able to work and become independent as a young adult, but it was becoming increasingly difficult for him to walk, and he was unable to hold a job.
The man and his parents traveled to North Carolina from Texas to seek the advice of Duke foot and ankle orthopaedic surgeon Samuel Adams Jr., MD. "The patient's deformity was very serious," says Adams, "and he was barely able to walk on the leg."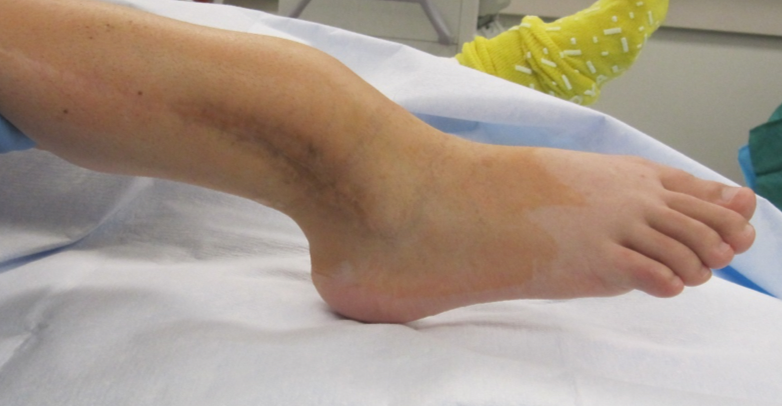 Limb reconstruction surgery was the only viable option, but, with so many past failed surgeries, the patient and his family were anxious for a new answer.
Question: What novel surgical technique did Adams perform?
Answer: Adams replaced 10 cm of the patient's tibia with a 3-D printed titanium cage implant.
"The deformity and poor bone quality from the neurofibromatosis was preventing the bone from healing after his previous surgeries," he explains, "so we decided the best option was to replace the diseased part of the bone." 
The patient's CT scan was used to create the implant, which worked like a scaffold to distribute forces while allowing the bone to maintain its structural integrity. The implant also stimulated the remaining bone to grow back within the cage, so the result was a stronger structure than the native bone had provided.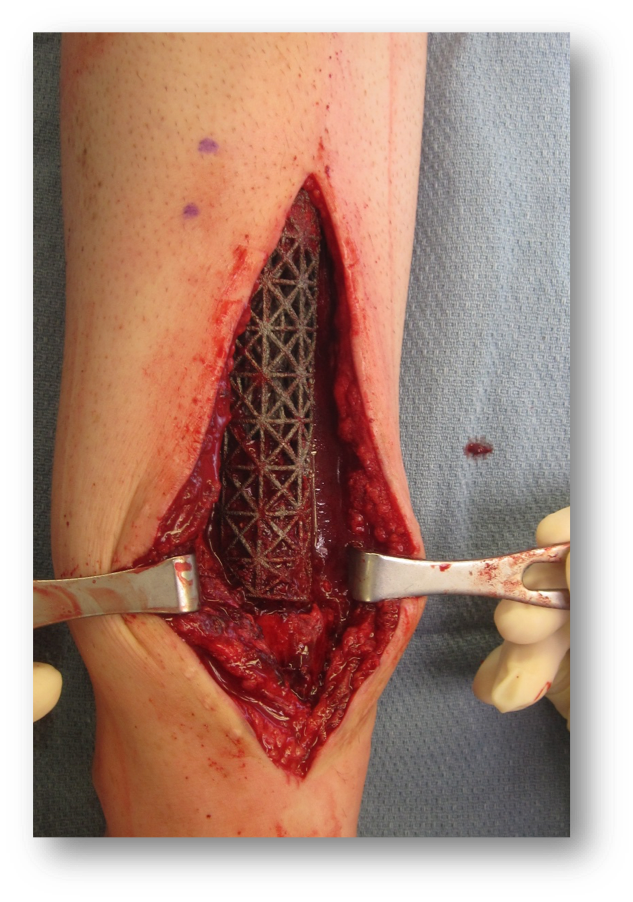 Although the 3-D printed cage technology is relatively new, Adams has performed the technique successfully many times in young patients as well as patients in their 60s and 70s. He notes that the custom 3-D printed cages can be used for bone defects virtually anywhere in the body, potentially saving limbs that have been damaged by trauma or tumors that often require amputation. 
The patient returned home after surgery and sees a community provider for follow-up care. Adams recently received a special photo from the patient—taken while he was working at his new job. "He's now working at a restaurant and is walking normally for the first time," says Adams. Radiograph below shows the patient's bone growth one year after surgery.