Severe Dyspnea Hampers Healthy Fire Chief
Published
December 4, 2017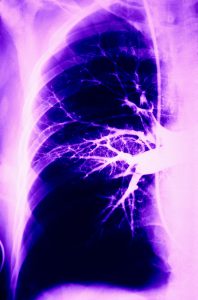 A 48-year-old municipal fire chief from New Mexico began to experience increasingly severe dyspnea. An active man who exercised regularly, he was surprised and alarmed by the condition.
While under the care of a regional medical practice, the patient experienced sudden respiratory decline at home. He was taken to a local hospital emergency department where he was diagnosed with 4 pulmonary emboli, 2 in each lung. He was treated with supplementary oxygen and a blood thinner and released from the hospital following a short stay.
A month after discharge, he experienced another embolism and was referred to a trauma center where the medical team diagnosed chronic thromboembolic pulmonary hypertension (CTEPH). The patient began a course of oral sildenafil. He continued his workouts, but the medical therapy and conditioning did not relieve the worsening dyspnea. The patient sought consultations with a cardiologist, a pulmonologist, and other specialists to discuss options. He was referred to Victor J. Test, MD, a Duke pulmonologist who specializes in surgery to treat pulmonary hypertension (PH).
Question: After work-up and evaluation, what did Duke pulmonologists and thoracic surgeons recommend as the most effective option?

Answer: The Duke team recommended a pulmonary thromboendarterectomy (PTE), a complex surgery that is considered to be the most effective procedure for PH and that is generally preferred over medical therapy, as it is curative for most patients.
Test contacted the patient shortly after receiving his inquiry and spent nearly an hour discussing treatment options. After that conversation and the transfer of medical records, the patient scheduled a surgical evaluation at Duke.
Just 6 months after his dyspnea initially presented, the patient underwent general assessment and pulmonary angiogram under Test's guidance. A successful PTE was performed, and the patient was discharged 5 days later without dyspnea. He flew home 10 days after the surgery. John C. Haney, MD, performed the procedure.
"The important issue for him was simply that he never got better no matter what he did, and he just would not accept that," Test says. "That's what is different in this case. He kept pushing to get answers and find a solution. Fortunately, he wound up at Duke for a complex procedure that involved several specialists and proved curative for him."
The PTE program at Duke has continued to grow since Test was recruited in 2015 to expand surgical options for PH patients. That year, the team performed 15 PTE procedures, and the numbers have continued to increase: 40 procedures were performed in 2016, and it is expected that up to 60 will be performed by the end of 2017.
Most patients undergoing PTE at Duke come from regional referrals, but a subset of patients are self-referrals or patients referred by former patients, Test says.
High-volume PTE centers experience lower mortality rates and can restore healthy pulmonary function in approximately 6 weeks, compared with 6 months at a center where the procedure is performed with lower frequency.