Ophthalmologists from the Duke Eye Center presented more than 100 different symposia, papers, posters, and more at the American Academy of Ophthalmology annual meeting, held October 27 to 30, 2018 in Chicago, IL. Findings from two presentations are highlighted below.
Restoring corneal sensation in patients with neurotrophic keratopathy
A new minimally invasive method of corneal neurotization successfully restores corneal sensibility and corneal epithelial integrity in patients with neurotrophic keratopathy (NK), according to published study results and additional supporting case studies presented by Ilya Leyngold, MD, on October 28, 2018.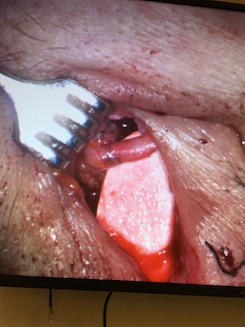 Whereas historically treatments for NK have been limited to those that treat the condition's symptoms and protect the cornea from further damage, corneal neurotization targets the underlying neurologic deficit by transferring healthy sensory nerves to the cornea. This has been described with the use of autologous sural nerve graft or large scalp incisions; however, these approaches require a multidisciplinary team and are associated with significant donor-site morbidity.
To address these challenges, Leyngold has modified the surgery using an acellular nerve allograft and a minimally invasive endoscopic approach. In the study, he and colleagues performed the procedure on ten patients and evaluated preoperative and postoperative corneal sensibility, ocular surface, and best corrected visual acuity. He also used in vivo confocal microscopy to evaluate nerve density in the corneal stroma four months after surgery. All of the evaluated variables, including corneal nerve density, were significantly improved within a few months after surgery in most patients.
"Corneal neurotization has revolutionized the treatment of neurotrophic keratopathy as it provides a definitive solution to the disease," Leyngold says. "As we minimize the morbidity of the surgery, more patients will benefit from and have access to the procedure."
Macular Microvascular Findings in Familial Exudative Vitreoretinopathy on OCT-A
In a second study, presented by fourth-year medical student Tammy Hsu in a poster displayed on October 28, 2018, researchers found that optical coherence tomography angiography (OCT-A) revealed macular abnormalities in eyes with familial exudative vitreoretinopathy (FEVR)—a disease that has been traditionally thought of as a condition that affects the peripheral blood vessels.
The study represents the first case series of depth-resolved macular imaging of eyes in patients with FEVR. Investigators used OCT-A and fluorescein angiography to image 11 eyes from patients with FEVR and 11 control eyes from patients without retinal disease. Seven of the 11 eyes with FEVR had abnormal foveal avascular zones, superficial vascular complexes, and deep vascular complexes (DVCs). Interestingly, the DVCs of FEVR eyes were characterized by "end-bulbs" or stub-like vessel terminations that appear to be unique to FEVR (compared with OCT-A of healthy patients), suggesting that OCT-A could play a valuable role in diagnosis.
"These previously undescribed findings in the deep macular microvasculature contribute to the understanding of FEVR pathophysiology and also provide the first link between human disease and mouse models," says Lejla Vajzovic, MD, the study's lead author and Duke Eye Center retinal specialist. "Moreover, it also points out that FEVR is not just a disease of peripheral retinal vasculature but also of deep retinal vasculature."