A series of ankle fractures that resulted from playing basketball in his youth left a 68-year-old man with painful, debilitating ankle arthritis in both ankles and a hindfoot deformity in the right foot.
An avid golfer, he wasn't able to enjoy the sport any longer because of the pain. He consulted with an orthopaedic surgeon in his home state who referred him to Duke foot and ankle orthopaedic surgeon Samuel Adams, MD.
The patient's right ankle needed two surgeries, says Adams, a total ankle replacement (TAR) to relieve the arthritis pain and allow for movement and a second surgery to correct the hindfoot alignment, which would be considered for a later date. 
After a thorough evaluation and consultation with the patient about his options, Adams decided to perform a different surgery on the left ankle.
Question: Why didn't Adams perform TAR on the left ankle? What alternative procedure did he perform?
Answer: Adams explains that although TAR typically results in pain relief, greater range of movement, and a natural walking gait, the patient's left ankle deformity was too severe for TAR to be the best option. Instead, he performed fusion on the left ankle to help correct the alignment problem and eliminate the arthritis pain.
As an expert in foot and ankle reconstructive surgery, Adams says there's not always a clear answer regarding optimal treatment for severe ankle arthritis, so surgeons must consider a number of factors.
In this case, it was logical to consider fusion on both of the patient's ankles. But Adams cautions that although fusion relieves pain it also limits the joint's up-and-down movement. Fusing both ankles would have a negative effect on the patient's mobility. "Without motion in either ankle it would have been extra difficult for him to stand up from a chair and walk with a normal gait."
The surgeries resolved the patient's pain and he was back on the golf course soon after surgery, once again enjoying his favorite sport. Because the ability to engage in sports activities is considered a valid indicator of functional improvement, Adams says the fact that the patient was able to return to his game with little to no residual pain is an encouraging sign for his long-term recovery and restoration of his quality of life. What's more, the patient reports feeling so much better than he has continued to postpone the second surgery to correct the right hindfoot alignment.
"He's very pleased with the outcome and says now that he didn't realize just how much pain he was dealing with on a daily basis," says Adams.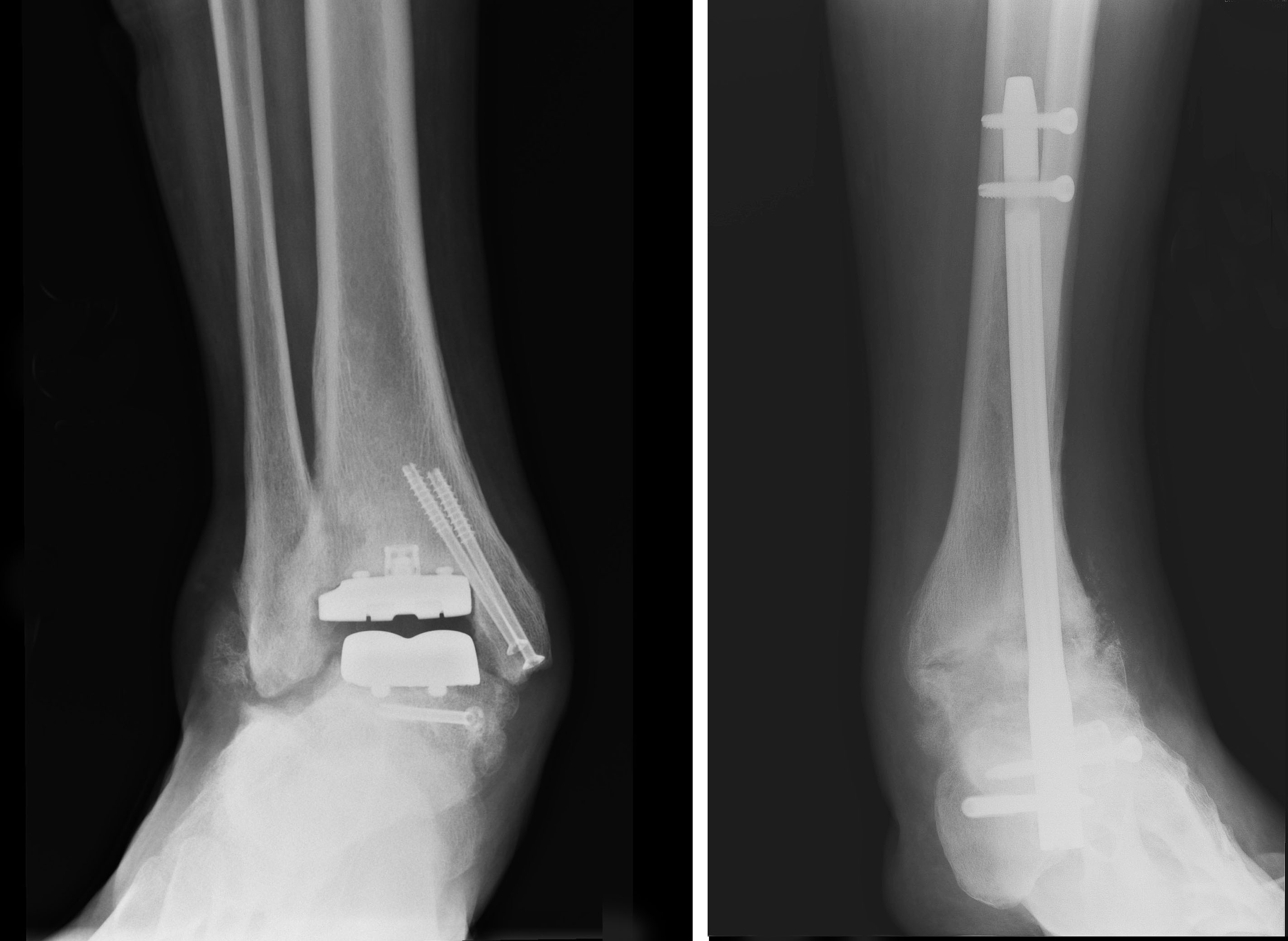 A right total ankle replacement (left) and a left ankle fusion with a tibio-talo-calcaneal nail (right)