The treatment of scoliosis, including early-onset scoliosis (EOS), in young children is a challenging area of pediatric orthopaedics, requiring solutions for controlling spinal deformity while allowing for growth of the spine and thorax during a critical period of lung development.
Duke pediatric spine surgeons are offering the latest technology for imaging, bracing, and operative and nonoperative treatments, including magnetic growth technology, anterior vertebral body tethering, and the Schroth method of physical therapy.
Robert K. Lark, MD, MS, a pediatric spine surgeon and section chief of the Department of Pediatric Orthopaedics, describes the latest innovations that are now offered at Duke Children's Hospital & Health Center—home to one of the most comprehensive pediatric scoliosis centers in the Southeast.
Magnetic growth technology
Image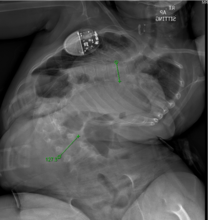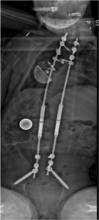 For children younger than age 10, Duke offers treatment with the MAGEC system (NuVasive, San Diego, CA), which uses magnetic technology within adjustable growing rods. "Children return to the clinic every three months, and we gently rest a device onto their backs, which magnetically telescopes the rods apart at 3 mm to 5 mm increments each time," explains Lark. "Historically, children would require multiple trips to the operating room to lengthen the rods surgically. Having the ability to grow the spine without multiple trips to the operating room has been an incredible advance in technology."
Anterior vertebral body tethering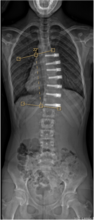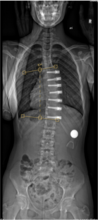 Another new procedure offered at Duke is anterior vertebral body tethering, which allows for growth while preserving spinal motion throughout a child's life. Lark says that until recently, surgery for scoliosis consisted almost exclusively of fusion—limiting spinal motion and creating additional stress on adjacent spinal segments
"With vertebral body tethering, we make small incisions in the chest, introduce implants into the vertebral body, then link the implants with flexible polypropylene rope to try to encourage the spine to grow out of scoliosis and grow itself straight," says Lark. "This procedure shows great promise to preserve spinal motion. It's still new enough that we don't know what the spine will look like when patients reach their 50s, but we have enough data now to know they do very well throughout their young adult lives." Lark is one of only two surgeons in North Carolina who performs the procedure.
Schroth Method of Physical Therapy
The Schroth method, offered by two certified physical therapists at Duke, is a non-surgical scoliosis treatment that uses specific exercises for a patient's unique spinal curve pattern, Lark explains. The primary goal for all patients is improved body mechanics and spinal stabilization to prevent further curve progression. Through therapies developed to promote flexion, de-rotation, and elongation of the spine and rib cage, the body is able to return to a more 'normal' physiological posture.
Low-dose imaging technology
Duke is one of only a few centers using the EOS Platform (EOS, Inc., St. Paul, MN) for spinal imaging. The system is a unique combination of low-dose 2-D and 3-D imaging technology that provides full-body images and patient-specific data sets to plan and control surgeries based on anatomical models of the patient in a weight-bearing position. "Using low-dose radiation equipment is important for children who will need so many images at a young age," says Lark.
Comprehensive care team
Lark, who is currently developing and participating in multicenter trials to study early onset scoliosis and spinal motion in scoliosis, credits Duke's comprehensive care team for the excellent patient-specific care provided to each child. "We're the only center in North Carolina where all faculty members are members of the Scoliosis Research Society," he says. "We have a great team environment to treat any type, any shape, any form of scoliosis. Nobody is turned away at Duke."