Getting Accurate Blood Pressure Metrics Essential for Patient Health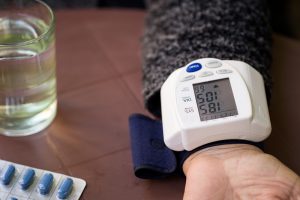 New blood pressure guidelines issued in 2017 present challenges for physicians who must educate patients and, in some cases, integrate new medications or therapies. A less visible but critical challenge persists: ensuring that accurate blood pressure measures are recorded consistently.
The new guidelines, issued jointly by the American College of Cardiology, American Heart Association, and 9 other professional organizations, are more aggressive than previous directives and define hypertension as systolic blood pressure above 130 mm Hg and diastolic pressure above 80 mm Hg.
"The biggest challenge with implementation of the new guidelines is trying to reeducate patients on the new targets and having a discussion about whether or not these guidelines are appropriate for each individual," says Crystal C. Tyson, MD, a Duke nephrologist who directs a busy hypertension clinic.
A cornerstone of Tyson's clinic is ensuring the accuracy of blood pressure measurements. "When I measure blood pressure, my goal is to get a meaningful data point," Tyson says. "Our nurses get pulse, temperature, and weight and ask the patients to sit in a quiet room without activity. Then I'm the one who directly measures blood pressure, and I do it at least twice."
Getting an accurate measure requires at least 7 minutes per patient, Tyson says. "A patient should be resting for 5 minutes before a measure and then resting another quiet minute before a second reading."
Unfortunately, in a high-traffic clinic, intake nurses often measure blood pressure in a busy setting just moments after patients walk from a parking lot. Clinicians are aware of the inconsistencies, Tyson says. "The readings are rarely standardized, never taken in a quiet area, and there is little time for patients to rest and relax," she adds.
Tyson incorporates 6 steps for every patient to ensure consistent, accurate blood pressure measurements:
The patient should sit quietly for 5 minutes in a quiet room free of activity
The patient should sit and support the body against the back of a chair
The patient's feet should rest flat on floor
The pressure cuff should be placed directly on an upper bare arm
The midpoint of the cuff should be positioned at the same height as the midpoint of the sternum
The clinician should wait 1 minute after the first measure and then take a second reading
Physicians try to create systems to ensure accuracy. In primary care or cardiology clinics, physicians generally view the initial blood pressure only as a reference point.
Patients may benefit from the use of personal blood pressure monitors, Tyson says, and she encourages patients to bring their home devices to her office to assess accuracy. Home monitors should be validated and approved by the Association for the Advancement of Medical Instrumentation, the British Hypertension Society and the International Protocol for the Validation of Automated BP Measuring Devices. The British Hypertension Society provides an online list of validated monitors.