When surgery to remove a large facial tumor involving the parotid gland was unsuccessful, leaving positive margins, a 33-year-old woman sought the advice of Duke head and neck surgeons Walter T. Lee, MD, and Russel R. Kahmke, MD, who recommended an extensive re-resection.
Knowing the re-resection would result in facial paralysis, sacrificing the facial nerve that traverses the parotid gland (cranial nerve VII), Lee and Kahmke called on the expertise of plastic and reconstructive surgeon Jeffrey R. Marcus, MD, to explore options for postoperative facial reanimation.
Because the presentation and manifestation of facial paralysis is highly heterogeneous, the range of possible treatments to restore facial expression is equally diverse and continues to evolve. "Solutions are not always the same for each patient, and we have a much wider range of techniques now compared with what we had five to 10 years ago," says Marcus, who was a co-author of a comprehensive 2015 study on facial reanimation techniques published in Plastic and Reconstructive Surgery.
Prior to the re-resection, the patient had near-normal facial movement (Figure 1). Following the tumor re-resection, the patient's face was paralyzed, and she was unable to fully close her eyes or smile (Figure 2).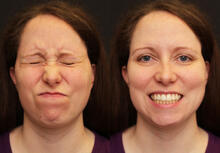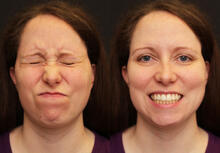 Question: What novel technique did Marcus select to resolve the patient's paralysis? 
Answer: The surgical team applied a neurotization technique that utilized the masseter nerve in addition to traditional facial nerve grafts to restore function to the patient's native muscles.
"There are a number of long-standing and familiar techniques involved in treating patients with facial paralysis using nerve grafts or nerve transfers," says Marcus, "but results with traditional reanimation techniques have had several major potential limitations.  Normal facial expression requires resting facial tone, strength of movement when activated, simultaneous movement on both sides, and no distracting movements during an isolated expression. Traditional techniques have lacked in some or all of these areas." Marcus' team first transferred the masseter nerve—a nerve known to be powerful for biting to ensure adequate strength of movement.  They used grafts from the existing facial nerve stump to selected muscles of expression to provide baseline facial tone and spontaneity of isolated facial expressions.
"The approach we took is a novel and creative one, guided by newer techniques and solutions for patients with different durations and causes of paralysis," says Marcus, adding that despite the availability of newer, more effective treatments, patients with facial paralysis are sometimes offered a treatment that was popular many years ago or are told there is no way to restore their function.  "Surgeons know how to transfer and connect nerves, but the difference between success and failure, or between fair, good, and great is highly technical.  It has to do with which nerves are selected and, very specifically, how and where they are connected."
After a program of facial rehabilitation with a specialized physical therapist, the patient began to regain movement, improving continuously over the next 18 months. "Having an experienced facial therapist is one of the biggest keys to success of these procedures," Marcus notes. "Without that, one can't expect the best result from the operation."
The patient is now tumor-free, and her function has progressed from complete paralysis to near-normal nerve function, including eye closure and smile (Figure 3).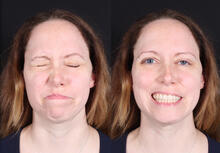 "Facial paralysis interrupts the cycle of non-verbal communication between people," Marcus explains. "When a person is unable to return a smile or appears asymmetric, others may inaccurately judge the individual as somehow deficient because of their appearance. So whatever we can do to restore near-normal facial function and eliminate that stigma is what we're trying to accomplish."
Duke is one of only a few institutions on the east coast with a facial nerve program that addresses problems comprehensively, with creative and innovative solutions involving teams of specialists. Marcus and his partner in the program, plastic surgeon Brett T. Phillips, MD, credit a multidisciplinary team of clinicians from Plastic Surgery, Head and Neck Surgery & Communication Sciences, Neurosurgery, Ophthalmology, and Physical Therapy that is working to transform the program into a dedicated facial nerve center.
"Facial nerve conditions aren't very common, but patients come to Duke from all over the country; we even had one patient travel all the way from South Africa," says Marcus. "With our colleagues, we have an opportunity to further develop a center to help us expand our reach geographically, centralize some of our services, and expand patient access to all members of our team."
Images courtesy of Jeffrey Marcus, MD