In 2017, a woman underwent amputation of all four extremities after developing vasopressor-induced necrosis. After being treated initially in her home state, she was referred to Duke for surgery in the residual limbs of her lower extremities.
While undergoing treatment at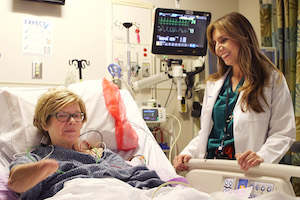 Duke, the 60-year-old patient learned about the possibility of hand transplantation and was referred to Linda Cendales, MD, hand transplant surgeon and director of the Duke Vascularized Composite Allotransplantation Program. Cendales is the principal investigator of a clinical trial studying the efficacy of belatacept to lessen immunosuppression in hand transplantation. The study also evaluates the patient's ability to perform activities of daily living with her transplanted hands compared with before transplantation.
To determine whether the patient was approved for the trial, the study protocol began with the informed consent followed by a thorough evaluation. The screening included consults with neuropsychology, social work, hand and transplant surgery, internal medicine, finance, pharmacy, nutrition, and occupational therapy, as well as radiology, nerve conduction and electrodiagnostic testing. A committee comprised of the professionals who participated in the evaluation then reviewed all the results and approved the patient for phase 2 of the trial—transplantation.
During the preparatory phases the interdisciplinary team held weekly sessions. The patient was placed on the waiting list and approximately three months later a suitable donor was found based on the trial's complex matching protocol that included blood type, size, gender, and skin color.
On the day of surgery in November 2018 Cendales led a team of more than 40 specialists who rotated in and out of the operating room during the 14-hour procedure. Through an intricate process of connecting bones, blood vessels, muscles, nerves, tendons, and skin, hand surgeons from Duke's Division of Hand & Upper Extremity performed both transplants simultaneously.
"We encountered no unanticipated events," she says. "The technical aspect is unique but the other aspects such as immune management, occupational therapy, neuropsychology, histocompatibility, and perioperative services, are as important."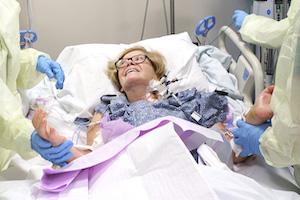 Cendales notes that there are currently fewer than 30 patients who have received hand transplants in the United States, including the Duke patient who received North Carolina's first single hand transplant in 2016 as part of the same clinical trial. That patient is progressing well after three years.
"Hand transplant continues to be a low-volume, high-risk, high-reward procedure under research," she says, explaining that all vascularized composite allograft transplants are currently considered quality-of-life rather than lifesaving procedures, including hands, face, and abdominal wall. Cendales says that Duke's research into lessening immunosuppression in hand transplantation is important for reducing serious side effects particularly in a quality-of-life transplant.
The patient was discharged less than two weeks after surgery and immediately started occupational therapy five times per week along with the belatacept regimen. Cendales notes that the patient reports  sensation, but adds that transplanted hands will never be considered "normal" hands in terms of sensation and function.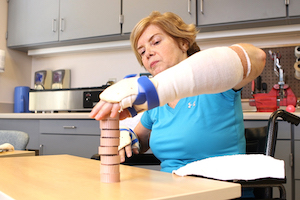 "One question is whether the patient is able to perform more activities with her transplanted hands compared to before the transplant," she says. "In our experience, sensation has returned to some degree in all of our recipients, but the overall function depends on many variables, including the mechanism of injury, the extent of occupational therapy, the compliance of the patient, the surgical procedure, and the level of amputation—the more distal the amputation the better the outcome."
Cendales applauds Duke for compiling all of the necessary resources and competencies to approach hand transplantation in an interdisciplinary, comprehensive, and systematic way. "These are very complex procedures and Duke is one of the few places where there is combined expertise available to do such cases,"  she says. "It is very hard to put together a team with all these competencies, and Duke has done a great job with this."
Although she cautions that transplanted hands are susceptible to rejection like any organ transplant, she says that can be reversible if detected early. The patient has had no episodes of rejection so far and she is progressing as projected.
"This patient's recovery has been as anticipated " says Cendales, "and this is being done on a research protocol so it will benefit more than one patient."