Duke Performs Novel Rotator Cuff Procedure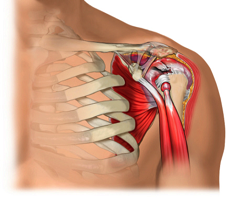 For select patients with significant shoulder pain who no longer have a functional supraspinatus tendon, Duke offers superior capsular reconstruction, a relatively new procedure yielding promising outcomes.
Grant E. Garrigues, MD, a sports medicine orthopaedic surgeon, uses a small piece of thick, sterilized skin from a deceased donor to compensate for the torn rotator cuff. The stretchy, elastic tissue has pores and crevices that allow cells to embed and grow.
The procedure was developed in Japan as an alternative to shoulder replacement. In Japan, surgeons used fascia from the thigh to reconstruct the tendon.
Garrigues monitored preliminary studies and worked with another surgeon who has implemented the procedure. After practicing on deceased donors, Garrigues performed 9 successful procedures at Duke with good results.
"The procedure is new and interesting and certainly has potential in specific cases," explains Garrigues. "But, I caution that we should not get too carried away yet. It's always better to repair the anatomy if possible."
Superior capsular reconstruction allows surgeons to clear scar tissue and create a properly anchored tendon with the deceased-donor tissue.
Good candidates for the superior capsular reconstruction are patients who have tendons that have torn and withered and whose muscles have turned into fatty tissue. Duke orthopaedic surgeons do not reconstruct tendons (as the Japanese do), so the deceased-donor tissue is preferred.
Two conditions must exist before the procedure is considered. First, it is indicated only if the rotator cuff cannot be repaired. Second, it is an effective solution only when reverse total shoulder joint replacement is not an appropriate option. Joint replacement is effective for light activities such as golf, tennis, and yard work.
Superior capsular reconstruction allows a return to full physical activity, so it may be appropriate for patients who have manual jobs that require heavy lifting. For example, masons and bricklayers often need help because of decades of shoulder strain, Garrigues says. Active individuals are good candidates, particularly patients who engage in weight lifting and regularly exercise.
Many younger patients want to avoid joint replacement because the implant may become loose over time, adds Garrigues.
Innovations such as superior capsular reconstruction are typical at Duke, whose physicians offer medical and physical therapy as well as surgery to relieve neck and shoulder pain caused by arthritis, bursitis, tendonitis, rotator cuff tears, and other shoulder conditions.