Duke Neurosurgery Quality Initiative Leads to Decreased Patient Mortality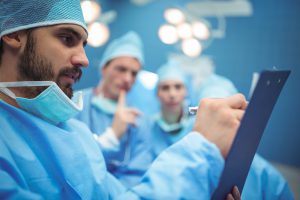 Quality improvement programs in neurosurgery can improve documentation and decrease mortality, according to an analysis published by Duke investigators in December 2017 in Neurosurgery. The study is one of the first to assess the efficacy of an institutional quality improvement initiative in terms of patient mortality index.
The initial goal of the quality initiative was to improve documentation and more accurately assess patients' preoperative mortality risk, says the initiative's lead, Duke neurosurgeon Oren Gottfried, MD. In July 2014, he began collecting outcomes and risk data on all patients who were either admitted to or received consultation at Duke Neurosurgery. A year later, in 2015, the department implemented a multifactorial quality improvement intervention.
Interventions included implementation of standardized care protocols and ongoing education for all clinicians in the department on accurate documentation for neurosurgery diagnoses. Each neurosurgeon in the department also began receiving detailed reports on their patient outcomes in comparison with those of their colleagues and national neurosurgery groups.
At the study's close in 2016, Gottfried was pleased to see that the intervention not only improved documentation but also patient outcomes, reducing 30-day mortality by approximately 1 patient a month. "I was hoping that educating our surgeons on their numbers would improve our ability to document our patients' illness," he says. "But I wasn't confident that it would also affect mortality and certainly not to this extent."
As the initiative continues, 30-day patient mortality outcomes improved still further in 2017 and are on track to improve once again in 2018, Gottfried reports. This suggests that such initiatives take time and are likely to be more successful in the long-term.
Of note, he adds, the study incorporated preoperative risk-stratification to account for comorbidities and illness acuity when assessing mortality outcomes. Surprisingly, the post-intervention patient population from 2015-2016 had a higher case-mix index, severity of illness, and risk of mortality than the 2014-2015 cohort, despite lower mortality.
"There's a natural tendency in neurosurgery to say, 'well, my patients are the sickest, so naturally we will have high mortality numbers,'" Gottfried remarks. "But we found that, even though our patients were sicker in the second year, mortality rates decreased. I think having a better understanding of how sick our patients are helped us make better clinical decisions and, ultimately, improve our outcomes."
It's unlikely that any single intervention was responsible for reduced patient mortality. Gottfried suspects that engagement from the entire department in combination with the various components of the quality initiative drove the improvements.
Moving forward, quality initiatives will need to assess beyond 30-day survival. What will be important is not artificial 30-day cut-offs but long-term, meaningful survival, he says: "In neurosurgery we have technology that can help us save lives. But the technology doesn't necessarily return patients' quality of life. My mission is to give patients the maximal experience of life in a way that honors their individual goals."