Does Checking G6PD Levels Before Prescribing HCQ Lead to More Harm Than Good?
Published
August 15, 2017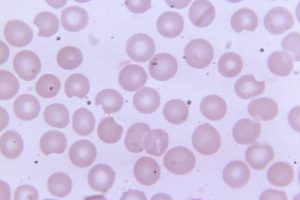 Screening patients for glucose-6-phosphate dehydrogenase (G6PD) deficiency before prescribing hydroxychloroquine (HCQ) is unnecessary and may limit the beneficial use of the drug for individuals with systemic lupus erythematosus and other autoimmune diseases, a team of Duke rheumatology researchers reports.
Concerned that a drug advisory intended to prevent hemolytic anemia restricts the use of HCQ and puts patients at risk, a team of Duke rheumatologists led by Lisa G. Criscione-Schreiber, MD, assessed whether HCQ is associated with hemolytic anemia among patients with G6PD deficiency.
Published in the May 26, 2017, issue of Arthritis Care & Research, the study is the largest of its kind in the United States evaluating the frequency of G6PD deficiency in patients taking HCQ.
Using a proprietary clinical search engine to identify patients treated with HCQ at the Duke Division of Rheumatology and Immunology since 1996, the authors reviewed the electronic health records of 275 patients and found no episodes of hemolysis in more than 700 months of exposure to the drug in 11 patients with G6PD deficiency.
"I don't think the results are surprising, but the data will be helpful in clinical practice to clarify that those patients who are found to be G6PD deficient should receive drugs they need," says Criscione-Schreiber.
Many physicians perform screening and decide not to prescribe HCQ because of a manufacturer's label warning, Criscione-Schreiber says. "G6PD deficiency is a condition we encounter in the clinic, and those patients are potentially at risk if their lupus is left unchecked. The bottom line is that it's safe to prescribe HCQ."
G6PD is the most common erythrocyte enzyme deficiency, with a worldwide prevalence rate of 4.9%. The enzyme reduces oxidative stress, so G6PD deficiency can lead to a build-up of free radicals and, ultimately, hemolysis within red blood cells. Criscione-Schreiber notes, however, that the warning label in the package insert for HCQ—included without conclusive evidence, she says—raises concerns among some clinicians.
"This issue just got under our skin, frankly," says Criscione-Schreiber. "We couldn't find supporting data and recognized the clinical need. We had a large enough cohort to analyze the question and develop useful answers that will be relevant in daily practice."
In addition to Criscione-Schreiber, the Duke rheumatology researchers included Megan E.B. Clowse, MD, and Amanda M. Eudy, PhD. Samya Mohammad, DO, a former Duke fellow, directed the database research.