Diagnosing Dysphagia and Chest Pain
Published
January 15, 2018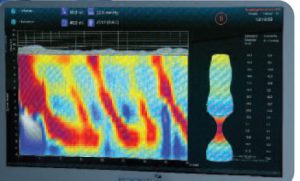 Image courtesy of Crospon.
A 63-year-old man was referred to a gastroenterologist after reporting dysphagia and chest pain. He underwent several trials with proton pump inhibitors, but his symptoms persisted, leading the gastroenterologist to perform upper endoscopy. When a barium x-ray and standard endoscopy failed to reveal the source of the dysphagia, esophageal manometry was performed, which was suggestive but not confirmative of achalasia.
The patient was referred to Duke Gastroenterology to confirm a diagnosis and determine the best treatment approach.
Question: What tools were used to evaluate and diagnose the patient?
Answer: Duke gastroenterologist David Leiman, MD, MSHP, used high-resolution esophageal manometry and functional luminal imaging probe (Endoflip; Crospon Medical Devices, Galway, Ireland) technologies to diagnose the patient with type I achalasia.
By the time the patient presented at Duke, he had also begun losing weight, further suggestive of achalasia, Leiman says.
"When I saw the patient, I was able to integrate the data he had gotten at initial evaluation, but I wanted to do further studies to get more information," he says. "We repeated his manometry using a high-resolution probe, which has the advantage of not only giving us more detail on esophageal motor function especially at the gastroesophageal junction but also allows us to subtype achalasia in a way that is clinically relevant."
Performing endoscopy using the Endoflip device helped cement the diagnosis, Leiman explains: "It's another piece to the puzzle to help make the achalasia diagnosis, particularly in challenging or atypical cases."
In addition to taking important diagnostic measurements, Leiman also injected botulinum toxin into the lower esophageal sphincter as a therapeutic trial. The patient had a successful response, and Leiman referred him to surgery for definitive treatment.
A Duke thoracic surgeon performed a Heller myotomy with Dor fundoplication on the patient soon after, which helped resolve the patient's symptoms. Now, 7 months after surgery, the patient reports being 98% symptom free: He no longer experiences chest pain or dysphagia, and his weight has stabilized.
"Being able to offer the newest diagnostic techniques like high-resolution manometry and Endoflip—which is only offered at a handful of places across the country—can really add a lot of value for ambiguous cases like this," Leiman says. "This was a nice example of how the additional technologies available at Duke can help us find out what's really going on and tailor treatment specifically to the patient."