A healthy, 59-year-old woman from South Carolina was referred to a local gastroenterologist after reporting dysphagia, chest pain, inability to eat, and weight loss. Upper endoscopy and barium swallow failed to indicate a clear cause, so the gastroenterologist prescribed a proton pump inhibitor (PPI).
When the patient received no benefit from the PPI, the gastroenterologist performed an esophageal manometry. The results appeared abnormal but were inconclusive. He referred her to Duke Gastroenterology, which was able to schedule her for an appointment significantly faster than closer tertiary centers.
At Duke, the patient consulted with esophageal specialist Amit Patel, MD. He noticed her manometry was suspicious for jackhammer esophagus and repeated the test. That time, with her disease having further progressed, the results clearly demonstrated classic jackhammer esophagus.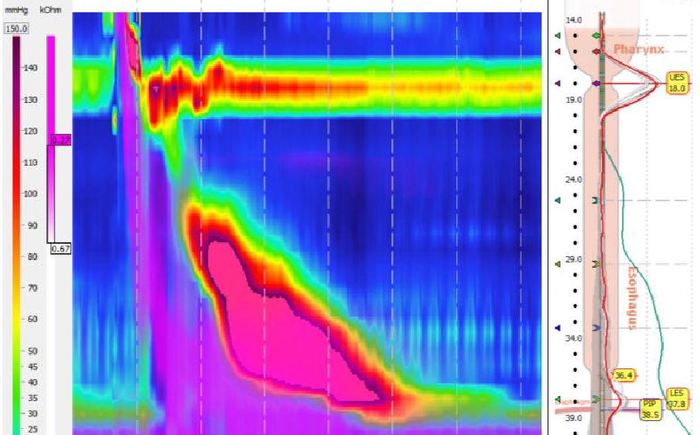 Patel began with a conservative treatment approach: calcium channel blockers and phosphodiesterase inhibitors. Both failed to improve her symptoms. By that point, two years after her initial presentation, she had lost almost 50 pounds and felt too sick to engage in anything beyond basic daily functions.
What was the best option to treat the patient's esophageal motility disorder?
The patient underwent peroral endoscopic myotomy (POEM), which allows minimally invasive access to the esophagus to relieve hypercontractility.
Before POEM was developed, there was no good option for patients with jackhammer esophagus that fail medical therapy, says Darin Dufault, MD, the Duke gastroenterologist who performed the procedure on the patient. Previously patients might have been offered the surgical equivalent—Heller myotomy. But Heller myotomy's abdominal approach makes it very challenging to cut the length of the esophagus, which is needed for good results.
"For this patient, we could have considered Heller myotomy, given how much weight she was losing, but luckily we could offer her a better option." First developed in Japan in 2008, POEM has been slow to be taken up in the United States, in large part because of the technical expertise required. Dufault is one of a group of four Duke physicians specially trained to perform the procedure, which also includes gastroenterologist Stanley Branch, MD, and thoracic surgeons Matthew Hartwig, MD, and Jacob Klapper, MD.
It is rare to have multiple physicians at the same institution trained for POEM, Dufault says. It's even less common for them to be in multiple specialties. But having gastroenterologists and thoracic surgeons trained to perform POEM has been beneficial both for determining what is best for each patient and for performing the procedure itself, he says.
Physicians in the two specialties hold a monthly esophageal conference to develop plans for challenging cases. The first 10 POEMs at Duke were performed collaboratively between a gastroenterologist and a thoracic surgeon.
"POEM really is a procedure that rides right down the middle of surgery and endoscopy," Dufault says. "It was tremendous to be able to all work together at the beginning so we could offer each other perspective about how best to perform the procedure. We shared our endoscopic expertise, and they shared their surgical expertise."
For this patient, Klapper joined Dufault in the endoscopy suite in a collaborative effort. The procedure went smoothly, with no complications, and she was discharged the next day. Four months later, the patient is at a healthy weight and back to her regular activities, Dufault says: "She says she feels like a brand new person, like she has her whole life back."