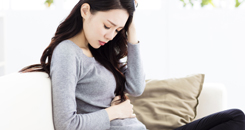 At 11 weeks pregnant, a 35-year-old woman from West Virginia with a history of miscarriages traveled to North Carolina for an appointment at the Duke Prematurity Prevention Program (DP3). She had lost three pregnancies, including a pregnancy in which a vaginal cerclage had been placed at 12 weeks. When she became pregnant for a fourth time, she researched options online and discovered DP3.
Question: What was the patient's best option to minimize the risk of preterm birth and reduce recovery time?
Answer: Because vaginal cerclage had already failed, the patient was a good candidate for transabdominal cerclage, which Duke is able to do laparoscopically—an approach that minimizes recovery time.
When the patient arrived at Duke, maternal-fetal medicine specialist Sarahn Wheeler, MD, walked her through her options. Not all OB-GYN programs have surgeons who perform transabdominal cerclage, she notes, and it is even less common to have surgeons with the expertise to perform the procedure laparoscopically.
The patient chose to stay at Duke to undergo the surgery after meeting with Wheeler. A preoperative appointment with minimally invasive gynecologic surgeon Amy Broach, MD, helped confirm her decision.
At 13 weeks, 5 days, Broach and chief of the Duke Division of Minimally Invasive Surgery Craig Sobolewski, MD—both of whom are specialized in advanced laparoscopic procedures—performed transabdominal cerclage.
The next day, the patient had a postoperative appointment with Wheeler, who reports that, as expected, the patient was experiencing some pain and discomfort but was overall doing well. She returned to Duke at 18 weeks for an anatomy scan, which showed that her cervix looked long—6 cm—and that the baby looked healthy. Broach also examined the patient and found that she had successfully healed.
Her care was then turned over to her local obstetricians to minimize the patient's need to travel, but Wheeler stayed in communication with the patient to help answer any questions and concerns. At 35 weeks, the patient gave birth to a healthy, 5-pound, 8-ounce baby girl.
Wheeler credits the patient's successful pregnancy both to the unique expertise of the minimally invasive surgery team and to DP3's ability to provide support to patients with a history of miscarriage or preterm birth: "Although this patient didn't need as much support as some of our patients, I think DP3's comprehensive approach is really important for helping our patients. There is a biologically plausible link between psychosocial trauma and preterm birth, so I feel grateful that we can offer these women invaluable resources like our clinical social workers and pregnancy medical home care managers."