The Duke Difference in Endometriosis Care
Evidence-based, personalized treatment options, including laparoscopic excision of endometriosis, ovarian cystectomy and hysterectomy, and medical management
Multidisciplinary care from gynecologists, pain specialists, and fertility experts
Experts who identify and treat other sources of pelvic pain, such as pelvic floor spasm, myofascial pain, or functional GI disease
Access to researchers actively discovering innovative ways to diagnose and treat endometriosis
To refer a patient for endometriosis care, call 919-684-6327 or log into DukeMedLink.
In a recent study published in BJOG: An International Journal of Obstetrics & Gynaecology, gynecologic surgeon Arleen H. Song, MD, MPH, OB/GYN resident Jenny Wu, MD, and their colleagues uncovered how women perceive the current state of endometriosis care by taking a closer look at TikTok.

"Women find communities online where they can share their diagnosis and the way their symptoms have impacted their lives. This connectivity is important because endometriosis is underdiagnosed and often stigmatized," says Wu.

Wu and fellow researchers found that endometriosis was a high-traffic topic on TikTok, with around 1.4 billion views. "We wanted to know why so many people were interested in this topic, what they were saying, and why they were turning to TikTok instead of a healthcare professional," Wu adds.
Study findings
Researchers analyzed the top 100 TikTok videos that discussed endometriosis, 75% of which highlighted a personal experience with the disease, finding:
Of videos discussing endometriosis symptoms, 50% focused on dysmenorrhea, with many emphasizing the fact that painful periods are not normal.
Around one-quarter of the videos signaled a distrust in healthcare. A common complaint was a perceived delay in diagnosis by providers.
In videos discussing treatments, surgery had a much more favorable response than hormonal treatments, and around 12% of videos highlighted alternative treatments, such as dietary changes and supplements.
Infertility was the key topic in 24% of videos, with many of those videos focused on in vitro fertilization.
"Healthcare providers can use these findings to develop better trust and rapport with patients," says Song.
Image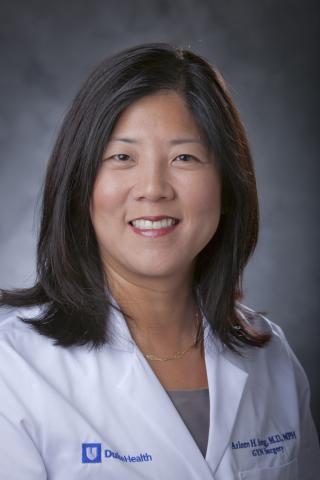 At Duke, we have the medical and surgical expertise that allows us to aggressively treat endometriosis. We're able to recognize symptoms quickly and develop a plan of care that will be comprehensive and hopefully successful for our patients.
Arleen H. Song, MD, MPH
Key practice takeaways
The study findings have influenced the way Duke specialists care for women with endometriosis in the following ways:
Starting a conversation
Wu says many patients with endometriosis have some ideas about their condition and treatment before they see a physician. "Focusing on what patients have seen online is something that I have made part of my routine practice because I think patients feel validated. Asking what they know, what they've found helpful, what their goals are really helps to set the tone," adds Song. "Many patients feel they have not been heard, and establishing trust, communication and rapport at the beginning is essential to finding the best treatment for the patient."
Sharing clinically sound information
Misinformation can fuel negative opinions on common treatments for endometriosis. Hormonal treatments, in particular, are misrepresented, says Wu. "There is this common idea that birth control will make you gain weight or impact your mood." In addition to educating patients on the side effects of the birth control, Song says she informs patients on their efficacy. "A lot of patients are skeptical because they've tried birth control and are still experiencing pain, but when hormonal therapy or cycle control is presented within a bigger treatment plan, it's often better received."
Building confidence and trust
Because endometriosis is difficult to diagnose and treat, many women experience frustration while seeking effective solutions to manage chronic and painful symptoms. This frustration can become distrust when they feel they're not being heard or receiving appropriate care. Through communication, collaboration, and comprehensive, proactive care, Song says physicians can build confidence and trust.