What Course of Therapy Might Extend Survival After Glioblastoma Multiforme?
Published
November 25, 2014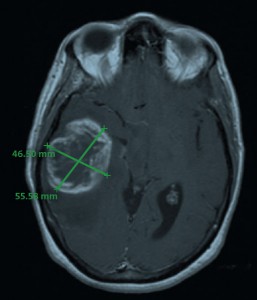 MRI image of the tumor in April 2006; measured dimensions 46.5 x 55.6 mm.
A 59-year-old woman from New Jersey was referred to the Duke Preston Robert Tisch Brain Tumor Center in 2006. She had experienced some of the usual symptoms that patients with primary brain tumors report: loss of consciousness, seizures, headaches, and loss of balance.
She received a physical exam and underwent radiographic imaging, which showed a primary brain tumor, glioblastoma multiforme (GBM). Typically, patients who receive a combination of surgery, radiation, and chemotherapy survive 14 to 16 months after GBM treatment. It is also typical for patients to experience a recurrence.
The bulk of the patient's tumor was resected from the right temporal region of the brain in April 2006, but it was not possible to obtain clean surgical margins because of the broad infiltration pattern of GBM tissue.
The patient then underwent a course of radiation and systemic temozolomide chemotherapy for 12 cycles.
What additional therapy options could preserve this patient's survival?
Answer: The patient was enrolled in a clinical trial for vaccine therapy.

The patient was matched to a clinical trial for an additional treatment for her tumor type. She received a cytomegalovirus (CMV) pp65 RNA-loaded dendritic cell vaccine.
The CMV antigen pp65 is a highly immunopotent viral protein used to load the patient's own dendritic cells, which were retrieved through leukapheresis.
The patient received her first vaccine in August 2006. She has received nearly 100 monthly vaccine doses to date. She continues to do well, pursuing work and activities of daily living without any clinical or radiographic signs of recurrence.
Because the timing of vaccine therapy through clinical trials is very important, patients who are to receive cancer vaccines for glioblastoma must be consented, examined, and prepared for the vaccine therapy before receiving radiation and chemotherapy.
This program works well, and patients can often return home for most radiation and chemotherapy treatments, says the patient's medical oncologist, Gordana Vlahovic, MD, of the Preston Robert Tisch Brain Tumor Center. The clinical trial vaccines are usually free of charge.
"Vaccine therapy is very tolerable, and the side effects are almost nonexistent," says Vlahovic. "Our patients can often return to work and to other activities and lead a full life. Many of our patients respond to the vaccine approach with a sustained response."
Patients can have a long-term response measured in years, and some patients treated within the Duke program have had, for example, 7, 8, and 12 years of survival after GBM with investigational vaccine treatment, Vlahovic says.
John Sampson, MD, PhD, chief of neurosurgery, and Darell Bigner, MD, PhD, who directs the Preston Robert Tisch Brain Tumor Center, lead a team that has pioneered many types of investigational vaccine therapies for GBM and other brain tumors.
Duke is currently enrolling patients into a trial sponsored by Bristol-Myers Squibb on immune checkpoint inhibitors in GBM (PD-1 and CTLA-4). Dr. Sampson is the national principal investigator (PI), and Dr. Vlahovic is the Duke PI. The Duke Tisch Brain Tumor Center designed the trial for first recurrence of GBM in patients who have never had a course of Avastin (approved for use in GBM and other types of cancer).