Walking Speed Could Be New Indicator of Health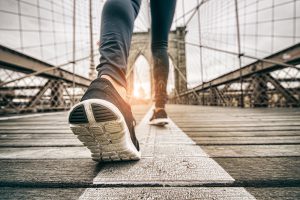 A mobile phone application launched by the Duke Clinical Research Institute will generate walking speed data that researchers believe can be used to benchmark health and recovery from illness or injury and create predictive health information to support clinical assessments in primary, cardiovascular, orthopaedic, and geriatric care settings.
Offered free to individuals with iPhones (Apple, Cupertino, CA) as a downloadable app, 6th Vital Sign asks volunteers several general demographic questions before prompting a 2-minute walk. Gait speed measured by the phone's accelerometer is incorporated with demographic data to calculate a reliable, personalized health snapshot. A performance report can be saved or shared with family and health care professionals to start the discussion on how mobility is associated with health.
The data are stored in servers at Duke to build a population health database. People without an iPhone can participate on another person's phone by creating their own unique account.
Janet Bettger, ScD, director of health policy and implementation research within the Department of Orthopaedics at Duke Health and one of the creators of the 6th Vital Sign project, says high numbers of participants will increase the value of the research findings.
"We are aiming to enroll thousands of participants of all ages across the adult lifespan from all regions of the country," she says. "Participants in the study will be helping to create normative phone-based measures of walking speed that will serve as the foundation for future initiatives to improve health and recovery from illness."
As of July 19, the 6th Vital Sign application had been viewed 1,415 times in the iPhone app store, and 957 people had downloaded the tool. Bettger says that nearly one-half of those individuals—520 so far—signed consent forms allowing their data to be used by Duke Health as part of the survey.
Jacob Kelly, MD, a Duke cardiologist and member of the app development team, welcomes the data. "They will provide valuable insight to know how far patients can travel within the time limit," he adds. "If my patients use this regularly and share the data during their appointments with us, I will know a lot more about their overall medical condition."
Patients with cardiovascular conditions are often assessed for heart health during a snapshot stress test, which includes walking or running on a treadmill; however, Kelly says reviewing a patient's walking speed data across a longer timeframe would provide a signal identifying any change in overall health.
One key objective of the study is to make walking speed a vital sign used in homes, health care facilities, and communities around the globe, Bettger says. Walking speed has already been shown to predict morbidity and mortality among older adults.
The researchers are developing mobile phone–based metrics so that people outside of health care settings can objectively evaluate their health, similar to what they do with body temperature and blood pressure readings. They hope that leveraging technology common to most people will help integrate walking speed as a sixth vital sign into practice—and do so more quickly than most other medical practice innovations.
"We know that it takes 15 years for research to reach patients," Bettger explains. "Uptake of effective interventions, medications, and devices takes years to become a part of daily practice. We hope to move much more quickly with implementing walking speed as a vital sign by leveraging personal data, mobile devices, and reliable physical health measures."
Other objectives of the study include:
Create walking speed norms based on mobile phones rather than clinical measures
Develop walking speed comparison charts by age and sex for all adults (similar to height and weight charts)
Create maps of how walking speeds vary by geographic location to influence pedestrian safety and population-based health initiatives
Increase awareness of the importance of walking speed
The popularity of the iPhone enhances the potential of the 6th Vital Sign study, but it also temporarily limits its reach.
"This application is just the beginning," comments Bettger. "We recognize the need to expand to Android (Google, Mountain View, CA)–based platforms, connect with wearable devices, target enrollment with older and sicker populations, and establish partnerships with researchers in other countries to study global populations."
"Mobility is associated with every system in our body," Bettger adds. "We want a vital sign that can be measured anywhere and by anyone objectively."