Unexpected Benefits From New Medications for T2DM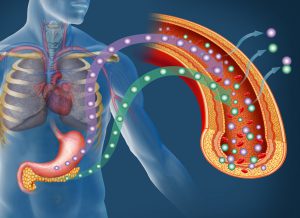 Two new medications for type 2 diabetes mellitus (T2DM) have demonstrated a significant reduction in cardiovascular risk in patients with the disease. In particular, the glucagon-like peptide 1 receptor agonist liraglutide and sodium-glucose co-transporter 2 inhibitor empagliflozin have yielded unexpected benefits, independent of their impact on glucose control.
In trials of patients with T2DM who are at high risk of cardiovascular disease, both liraglutide and empagliflozin reduced the risk of cardiovascular death, nonfatal myocardial infarction, or nonfatal stroke compared with placebo when added to standard diabetes care. Empagliflozin also significantly reduced the risk of hospitalization for heart failure. Results from both trials suggest that treatment with these agents could be beneficial in preserving renal function.
Published in November 2015 and July 2016 in the New England Journal of Medicine, the studies were 2 of several large, long-term outcomes trials conducted following industry guidance from the US Food and Drug Administration in 2008, recommending evaluation of cardiovascular risk in new antidiabetic therapies for the treatment of T2DM. The results of additional drug trials are expected in the coming year.
"Ten years ago, little was understood about the long-term safety of medicines used to treat diabetes. In fact, some drugs appeared to increase the risk of cardiovascular complications," says Duke endocrinologist Jennifer B. Green, MD, whose primary area of research includes the treatment effects and cardiovascular outcomes of drugs to treat diabetes.
"There are many theories as to why these drugs reduce the risk of cardiovascular complications, as well as many other unanswered questions. Because the drugs potentially reduce cardiovascular risk through different mechanisms, if patients were treated with both drugs, would there be an additional benefit?"
In addition to cardiovascular benefits, both liraglutide and empagliflozin reduce hyperglycemia in patients with T2DM and are associated with reductions in weight and blood pressure.
"With the myriad of drug options available today, it can be difficult to determine how to best manage diabetes in high-risk patients," says Green.
Duke endocrinologist, Jennifer Rowell, MD, agrees: "It's important to take a patient-centered approach. We discuss the patients' lifestyle, what their goals and fears are, what their insurance coverage is and any cost issues, as well as potential side effects."
When making care decisions, Duke endocrinologists carefully consider data from trials that evaluate the long-term outcomes of therapies used in the management of hyperglycemia and other cardiovascular risk factors. Says Green: "For our high-risk patients with diabetes, we should be focusing on the drugs with proven cardiovascular outcomes benefits. There may be other drugs in the same classes as liraglutide and empagliflozin that deliver similar benefits, but we don't have that information yet."
Every class of drugs has contraindications and risks, Green cautions, but she is optimistic about the results produced so far—and those still to come. "It's exciting to discover that we have medicines that can lower glucose levels, improve health, and reduce risk of death."
Save