Treating Primary Hyperparathyroidism in a Jehovah's Witness
An 81-year-old retired policeman and Jehovah's Witness who had been managing an elevated serum calcium level and vitamin D deficiency for years was referred to Duke endocrinologist Kenneth W. Lyles, MD, for further evaluation.
In addition to confirming the patient's vitamin D deficiency, Lyles diagnosed him with primary hyperparathyroidism and osteoporosis.
Lyles first corrected the vitamin D deficiency with supplements. The only available cure for primary hyperparathyroidism is parathyroidectomy, which may delay the rate of bone loss and—in some cases, following successful surgery—increase bone density.
But, as a Jehovah's Witness, the patient was only willing to consider a surgical solution if it did not require that he receive any blood products.
Question: What did Lyles recommend to treat the patient's hyperparathyroidism while also respecting his religious beliefs?

View case conclusion

Answer: Lyles partnered with Duke Chief of Endocrine Surgery Julie Ann Sosa, MD, who performed minimally invasive parathyroidectomy using a 2-cm incision with no measurable blood loss.
"The patient was an older man with multiple morbidities who needed a surgeon who was highly experienced in conserving blood," explains Lyles.
Sosa agrees: "When you go into the operating room with a Jehovah's Witness patient, there's always the potential that something could go wrong. If the patient hemorrhages, you don't have a good 'plan B.' This type of surgery takes judgment and experience that only comes from performing a high volume of these procedures. At Duke, we perform more than 200 per year."
Utilizing imaging to identify the affected gland in advance, Sosa conducted a rapid intraoperative parathyroid hormone assay in the operating room.
The patient's parathyroid hormone level was 212 pg/mL at the beginning of the surgery, and it decreased to 49 pg/mL before the procedure was completed.
The discovery that the tumor weighed 1710 mg and was located in the left upper retroesophageal position abutting the patient's spine made the resection slightly more challenging. However, preoperative imaging localized the lesion, facilitating focused and efficient dissection in the operating room (Figure).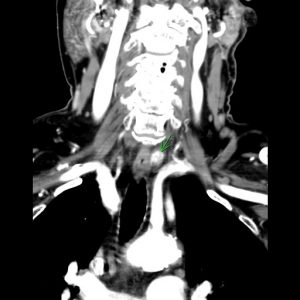 FIGURE. Four-dimensional computed tomography of the candidate parathyroid lesion prior to parathyroidectomy to determine its location. The lesion was posterior to the left thyroid lobe in the paraesophageal location and measured 13 mm
As a result, the surgery went very well, and the patient's calcium level normalized to 8.8 mg/dL only 10 days later.
"The approach we took allowed us to achieve an exceptional outcome in a patient who was high risk and had a tumor in an unusual place," says Sosa.
Following the surgery, Lyles prescribed the patient alendronate to treat his osteoporosis.
Now aged 85 years, the patient's osteoporosis and vitamin D deficiency are under control, his bone density is improving, and he has experienced no fractures.
"It's important that patients with primary hyperparathyroidism have a surgical consultation to better understand their options, including the risks and benefits," says Sosa. "Over the last couple of years, the threshold for surgery has fallen significantly because we have safer, minimally invasive surgical strategies. More and more patients are opting for surgery because it's taking a curative approach, with less risk."