Treating Endometrial Cancer
Published
October 25, 2016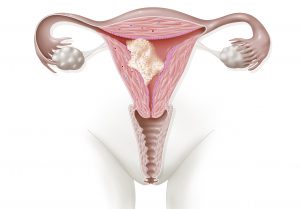 A woman was referred to an obstetrician-gynecologist after she presented with postmenopausal bleeding during a routine examination. Findings on endometrial biopsy revealed grade 2 endometrial adenocarcinoma. The patient was referred to Duke for further evaluation and work-up.
Question: How was the patient treated, and how was her prognosis determined?
Answer: Gynecologic oncologists Andrew Berchuck, MD, and Brittany A. Davidson, MD, laparoscopically performed hysterectomy and salpingo-oophorectomy to treat the cancer. Sentinel lymph-node (LN) biopsy was performed to determine the prognosis.
The surgery went smoothly with no complications, and the patient was discharged early the next morning. At her 6-week follow-up visit, she learned that, rather than intermediate-grade adenocarcinoma, she had a well-differentiated tumor with less than 50% invasion into the uterine wall. Her sentinel LNs were also negative, indicating the tumor had not metastasized.
Davidson explains that Duke has recently moved away from complete LN dissection toward sentinel LN biopsy because the procedure is less likely to injure major blood vessels and nerves, and the procedure has a significantly lower rate of lymphedema. Research suggests sentinel LN biopsy is equally informative.
"We've done studies where we've identified the sentinel LN and also done the full LN dissection to compare, and the rate of false negatives is very, very low," she says. "We feel really good about using this procedure because it offers patients a benefit in terms of fewer adverse effects, while still allowing us to make postoperative decisions about whether they need further treatment."
The patient is now receiving active surveillance and will follow up with either Duke's Division of Gynecologic Oncology or her local obstetrician-gynecologist every 3 to 4 months for the first 2 years. Although it is unlikely the cancer will recur, Davidson says that it is important that the patient undergo thorough pelvic examinations and report any new bleeding.
For patients with endometrial cancer, Davidson stresses that prompt referral to a gynecologic oncologist helps ensure the best outcomes. "We are well-trained in the many surgical techniques available and can discuss treatment options with the patient," says Davidson.
"Unfortunately, it's a cancer that's oftentimes related to obesity; we're seeing more women in their 20s and 30s who are morbidly obese being diagnosed with endometrial cancer," she adds. "Though the standard of care is hysterectomy, there are fertility-sparing options that may be available based on their specific cancer and their fertility goals."