Mounting data supports the growing specialty of cardio-oncology, which aims to monitor and protect patients' cardiac health throughout and after completion of cancer therapy. It is particularly relevant for women with breast cancer.
"Current guidelines support the need for specialized cardio-oncology care among patients at greatest risk of experiencing cancer treatment related cardiovascular toxicity," says Duke medical oncologist Susan Faye Dent, MD.
With more than 15 years of leadership and research in the specialty, Dent has published numerous papers on the topic, pushing the field forward as president of the International Cardio-Oncology Society.
Dent and cardiologist Michel G. Khouri, MD, lead the Duke cardio-oncology program as co-directors. Khouri founded the program in 2012, which is now a major center in cardio-oncology research, practice, and clinical training among academic medical centers. Dent joined Duke in 2018, followed by Brandy Patterson, MD, a cardiologist with academic cardio-oncology experience.
With Dent and Khouri's leadership, the program has reached an inflection point, where data proving the relationship between cancer and cardiovascular disease informs an expert team committed to delivering the best possible patient outcomes through diagnosis, treatment, and long-term survival.
"To achieve our full potential, this commitment to protect the heart and cardiovascular system through the cancer journey must be integrated into standard cardiology and oncology clinical care," says Khouri.
Adjunct cardio-oncology support
In many cases, cardio-oncologists support a patient's primary oncologist and cardiologist. They often provide second opinions, and review or confirm diagnoses and treatment plans. "If a patient already has a cardiologist or oncologist, they can come to us for a comprehensive consultation for advice, and then continue seeing their primary team," says Dent.
Duke's cardio-oncology team provides recommendations to patients both locally and for those traveling for specialized care for cancer-related heart conditions. Follow-up visits are as needed; some can be video visits, depending on where the patient lives.
Cardio-oncology care continuum
Protecting cardiovascular health begins with assessing and monitoring it before, during, and after breast cancer treatment.
Some patients already have heart disease or significant risk factors when diagnosed with cancer. "In this case, cardio-oncology experts collaborate from the start to customize a treatment plan that maximizes therapeutic outcomes while minimizing cardiac risks," says Dent.
"Many patients we see after cancer treatment would have benefited from at least one consult with a cardiologist before treatment," adds Khouri.
Cardiovascular disease also can result from cancer therapies. "If a patient develops cardiotoxicity during treatment, some oncologists will stop therapy, however our goal is to determine how we can still provide the best cancer therapy while preserving an individuals heart health," says Dent.
This approach may also reduce long-term cardiac effects.
Image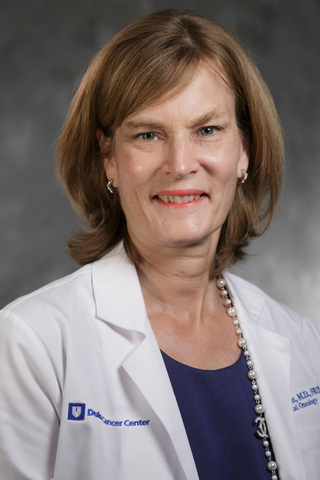 We want to ensure survivorship in general, not just cancer survivorship.
Susan Faye Dent, MD
Shared risk factors, intertwined diseases
Breast cancer is the most common malignancy among women worldwide and a leading cause of cancer-related deaths. Post-menopausal women who have survived breast cancer are at greater risk of dying of cardiovascular disease than recurrence of their breast cancer.
Risk factors for cancer and cardiovascular disease are intertwined. Breast cancer and cardiovascular disease share multiple risk factors including diet, smoking, and obesity. "We can't treat these conditions separately because one affects the other," says Dent.
"We are seeing more patients with cancer present with multiple comorbidities such as poorly controlled hypertension, hypercholesteremia, and diabetes, which increases their risk of developing cardiovascular problems during cancer therapy," says Dent.

Cancer causes a pro-inflammatory state in the body, which may trigger or worsen heart disease. Dent says, "The goal is to successfully treat cancer and reduce cardiovascular-related morbidity and mortality in the near- and long-term."
Refer a Patient
To refer a patient to Duke's cardio-oncology program, call 919-681-5816, or refer using MedLink.
Expansion to other cancer types
Cardio-oncology first focused on patients with breast cancer because anthracyclines, commonly used to treat breast cancer, were known to place patients at risk of cardiotoxicity. "Women treated for breast cancer would show up in cardiology clinics years after completing cancer therapy with symptoms of heart failure" says Dent.
"That's what lead to my interest in cardio-oncology. It is important that we educate other health care providers and patients on the importance of heart health during and following completion of breast cancer therapy."
There have been many advances in the treatment of cancer throughout the last decade; however, several of these treatments may have a negative impact on cardiovascular health. Today, the Duke cardio-oncology program supports all patients with cancer including hematologic malignancies and solid tumors.
Image