Treat-to-Target Achieves Remission in Inflammatory Conditions
Published
November 6, 2017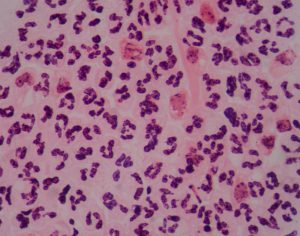 The treat-to-target (TTT) approach remains an effective strategy for managing inflammatory disease conditions and is recognized for its ability to achieve remission more quickly than routine care. When treating inflammatory conditions over longer periods, however, Duke rheumatologists caution, the effectiveness of TTT as a treatment strategy is more difficult to demonstrate.
"Treat-to-target is useful and valuable as a mindset for rheumatologists because it provides a means to achieve more rapid control of the disease," says William St. Clair, MD, chief of the Duke Division of Rheumatology and Immunology. "Long-term outcomes are vitally important for patients. More rapid and consistent inhibition of joint inflammation by a TTT approach will almost certainly reap substantial benefits over a long disease course."
The TTT strategy evolved after the successful development of diverse conventional and targeted biologic disease modifying anti-rheumatic drugs (DMARDs). The strategy uses quantifiable measurements to inform treatment decisions and requires 3 steps:
Regular assessment of disease activity using validated measures
Adjustment of treatment based on these measurements
An established goal for a predefined, measured target
Several disease activity measures have been developed, but they are generally similar in their approach, says Ryan Jessee, MD, a Duke rheumatologist who has reviewed the TTT literature. The measurements are based on 3 systems: patient driven, patient-provider driven, or patient-provider-laboratory composite.
"There is no gold standard," Jessee says, but he notes that the disease activity score—known as DAS28—appears to be most popular among American rheumatologists.
DAS28 was developed by the European League Against Rheumatism to measure improvements among patients who have RA. The score establishes values for disease activity in select joints, including the proximal interphalangeal and metacarpophalangeal joints as well as wrists, elbows, shoulders, and knees.
In addition to RA, rheumatologists have applied the TTT strategy to manage patients with gout. The TTT strategy has also been previously applied to hypertension, diabetes, and other chronic diseases.