Ticagrelor Not Superior to Clopidogrel in Treating PAD
Published
January 17, 2017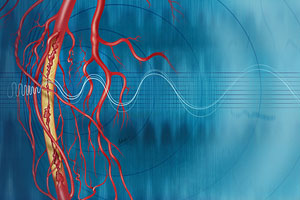 According to results of the largest study to date of patients with peripheral artery disease (PAD), ticagrelor was not superior to clopidogrel and the safety of the 2 drugs was comparable. Both drugs have similar rates of major bleeding. However, ticagrelor was shown to be more effective than clopidogrel in study participants who had a history of coronary or carotid revascularization or previously received a coronary stent implant.
Reported during the Scientific Sessions of the American Heart Association held November 12 to 16, 2016, in New Orleans, LA, and simultaneously published in the November 13, 2016, issue of the New England Journal of Medicine, the 4-year study followed nearly 14,000 patients around the globe.
Patients with symptomatic PAD were eligible for the trial if they had an abnormal ankle-brachial index of 0.80 or less or revascularization in their lower extremities. Patients were excluded if they were determined to be poor metabolizers of clopidogrel (homozygous for CYP2C19 mutation).
The study enrolled 13,855 patients treated at 811 sites in 28 countries. Eligible patients were randomly assigned to receive twice-daily ticagrelor 90 mg (n = 6,930) or once-daily clopidogrel (n = 6,955). The primary end point was a composite of cardiovascular death, myocardial infarction (MI), or ischemic stroke.
In this comparative study led by the Duke Clinical Research Institute (DCRI) and the University of Colorado, the researchers found that 10.8% of study patients assigned to ticagrelor experienced MI, ischemic stroke, or cardiovascular death compared with 10.6% of those in the clopidogrel group. Major bleeding occurred at approximately the same rate (1.6%).
Manesh R. Patel, MD, chief of the Duke Division of Cardiology, DCRI member, and corresponding author, says the study provided a needed head-to-head comparison of the antiplatelet drugs.
"Given the initial evidence, ticagrelor was considered a potent antiplatelet agent with potential benefit also in patients with PAD," Patel says. "Our trial demonstrates the hazards of extrapolating evidence from coronary disease populations to patients with PAD."
Ticagrelor is approved for use in patients with acute coronary syndrome and post-MI, and clopidogrel is the standard of care for PAD. The study received funding from AstraZeneca.
"There is still a huge unmet need and high event rates for people with this disease," Patel says. "We need other therapies to address this disease burden. Future trials should evaluate well-defined PAD populations, and take into account the procedures, drugs, and devices used to treat symptomatic PAD."