Surgery Helps Patient Regain Function, Return to Work
Published
October 14, 2014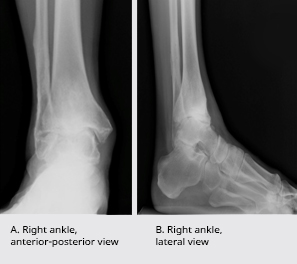 Figure 1. Preoperative weightbearing radiographs of 53-year-old man with end-stage ankle arthritis
A 53-year-old man fractured his right ankle more than 2 decades ago at the age of 31. He underwent surgical repair of the fracture and subsequent removal of the metal devices used in the repair. Over the years, however, he developed chronic pain and degenerative arthritis in the joint that severely limited his ability to perform activities of daily living. Additionally, his symptoms significantly interfered with his ability to manage his construction business, climb ladders, and visit construction sites. Before arriving at Duke Medicine's orthopaedic foot and ankle center, he had undergone a number of non-surgical treatments—nonsteroidal anti-inflammatories (NSAIDs), activity modifications, braces, orthopaedic footwear, physical therapy, and corticosteroid injections.
"He got to the point where he couldn't function any more with this ankle," said Mark Easley, MD, a surgeon from Duke Medicine's foot and ankle team. "He saw me in June of 2013. At that point, we considered surgery because he'd exhausted every other treatment."
Initial workup of ankle and/or hindfoot pain should include a physical exam and weight-bearing radiographs of both the ankle and foot. Radiographs of the patient's ankle revealed advanced degenerative arthritis of the right ankle with almost complete destruction of the joint space and early hindfoot arthritis (Figure 1A, 1B).
What was the best option for this patient?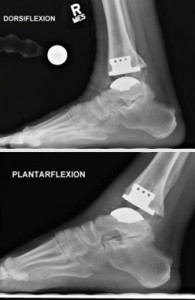 Figure 2. Radiographs of ankle arthroplasty at 1-year follow-up, demonstrating preserved range of motion
Answer: Total ankle replacement offered a better long-term outcome and improved quality of life for the patient.

For many years, ankle arthrodesis (ie, fusion) has been the surgical gold standard for end-stage ankle arthritis. Recent investigations suggest that either total ankle arthroplasty (ie, replacement) or arthrodesis provides equal pain relief. However, the advantage of ankle replacement over arthrodesis is that replacement preserves some range of motion and offers better function. Because the ankle is immediately adjacent to the joints of the hindfoot, preservation of motion can help reduce stress on the hindfoot and potentially delay or prevent the development of hindfoot arthritis, which can be debilitating, Easley said.
"In this case, the patient already had some hindfoot stiffness and early hindfoot arthritis as well," Easley commented, and his concern was that arthrodesis would accelerate the effects of stress on the hindfoot.
In July 2013, the patient underwent ankle replacement at Duke Medicine's foot and ankle center, receiving a fixed-bearing total ankle prosthesis. During the arthroplasty surgery, Dr. Easley also removed arthritic osteophytes and lengthened the patient's Achilles tendon, which had shortened and become inflexible secondary to sustained joint damage. Achilles tendon lengthening helps preserve motion on dorsiflexion and plantarflexion after ankle replacement (Figure 2), Easley explained.
The postoperative course is similar for most total ankle replacements: protected weight bearing and immobilization for 6 weeks, first in a cast and then in a removable boot. After 6 weeks, patients gradually increase weight bearing and walking in the boot and then transition to a regular shoe. This patient was seen for routine follow-up at 3 and 6 weeks post-surgery, then at 3, 6, and 12 months.
This patient was able to achieve minimal to no pain in the ankle, and he regained his ability to perform daily activities including work duties, although he was discouraged from climbing ladders to avoid excessive stress on the ankle joint.
"He said that it was a life-changing surgery for him," Dr. Easley commented.
Duke is known for its expertise: more than 1,000 total ankle replacements have been performed over the last 6 years by the foot and ankle specialists at Duke Medicine. These cases are being followed in a Duke orthopaedic registry database so that this prospectively collected data can be analyzed to help to better clarify long-term ankle replacement outcomes.
Thus far, studies show that ankle replacement outcomes have not yet reached the same level of positive outcomes as total hip or knee replacement. This is, in part, due to the fact that the ankle joint is smaller than the hip and knee and relies on balancing the ankle joint over the hindfoot joints. Additionally, surgical technique, instrumentation, and implants for ankle replacement have only been refined over the last 5 to 7 years, whereas hip and knee replacement have a much longer track record. Although current data do not include the newest modifications, 95% good-to-excellent survivorship of the replacement components can be expected at 5 years post-procedure and 90% at 10 years.