Supine Cycle Allows Patients to Exercise in ICU
Published
November 20, 2017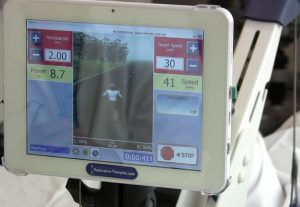 Lyon, S. (Producer). (2017, March 7). Faculty Research Spotlight: Dr. Amy Pastva [Video file]. Retrieved from https://dpt.duhs.duke.edu/research/faculty-research-spotlights/dr-amy-m-pastva-spotlight
A portable supine cycling device is helping patients in the intensive care unit (ICU) participate in physical activity while spending time in bed immobilized or tethered to lifesaving mechanical systems. Duke is one of a small group of medical centers using the device to improve circulation, preserve joint integrity, and prevent or attenuate lower-limb muscle weakness during hospitalization.
Supine cycling is a novel assistive rehabilitation technology that can be performed while patients are sedated or awake. The supine cycle is wheeled to the unit and attached to the foot of the patient's bed, providing 3 possible activity modes to accommodate fluctuations in ICU patient participation:
Passive (no patient initiation)
Active-assisted (partially initiated by the patient)
Active (performed fully by the patient)
The cycle is also equipped with electrical stimulation; electrical impulses sent to pads attached to the surface of the patient's lower-limb muscles facilitate muscle activation and contraction.
Specialists using the supine cycle predict that it will become a valuable tool to preserve physical health during recovery from high-risk conditions that require extensive ICU stays. Duke began using the device in the ICU in 2014 in patients with acute or chronic pulmonary conditions and respiratory failure, but it has broader potential applications for orthopaedics and other specialties.
"We know that patients in intensive care, especially those on supportive devices (eg, mechanical ventilation) and with expected longer-duration stays are at high-risk for functional decline and long-lasting physical, cognitive, and psychological impairments," says Amy M. Pastva, PT, PhD, a rehabilitation specialist with appointments in the departments of orthopaedic surgery, medicine, and cell biology. "For instance, studies have demonstrated that patients can lose upwards of 20% of thigh muscle mass within only 1 week of inactivity. The greater the amount of time in the ICU, the greater the risk to their overall health."
Portable upright cycles are used in outpatient therapy intervention for spinal cord and stroke rehabilitation. "But this application allows us to begin activity early in the ICU stay, primarily for patients who have a high risk of functional decline," Pastva says.
Benefits of the cycling extend beyond patients. "The families love it. They see their loved ones becoming active," says Pastva. "The health care providers appreciate it. They understand the risks of inactivity and want their patients to have the best chance for recovery."