Standardizing Emergency Response and Treatment Saves Lives, Lessens Heart Damage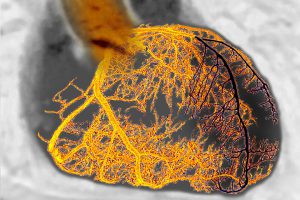 Damage caused by myocardial infarction (MI) can be limited by standardizing emergency responses and hospital treatments to reduce the time from initial medical contact to blockage clearing, according to a national study published August 1, 2016, in Circulation.
Accelerating treatment for ST segment elevation MI (STEMI), the project increased the number of patients treated within guideline goals. These goals recommend a first medical contact-to-device time of less than 90 minutes for patients presenting directly to hospitals capable of percutaneous coronary intervention and less than 120 minutes for patients transferred by emergency medical services (EMS).
Previous research has shown that patients treated within the guidelines have higher survival rates. However, up to 50% of patients do not meet STEMI guideline goals.
"The single most important way to prevent death in the case of heart attack is to rapidly open the blood vessel so that blood flow is restored," says the study's senior author, Duke cardiologist Christopher B. Granger, MD. "This is one of the most important things we can do in all of cardiovascular care."
Known as the Mission: Lifeline STEMI Systems Accelerator, the 18-month national study involved nearly 24,000 patients, 484 hospitals, and 1,253 EMS agencies in 16 regions across the United States, including large metropolitan areas such as New York City, Atlanta, and Houston.
Coordinated efforts during the study produced a modest but statistically significant increase in the proportion of patients treated within guideline goals:
Among patients transported by EMS to hospitals fully capable of treating them, the proportion treated within guideline goals increased from 50% to 55%.
Among patients transferred from an initial treatment center to a fully equipped facility, the proportion increased from 44% to 48%.
In addition, 5 of the 16 regions that stood out as the most improved experienced an increase from 45% to 57% in the proportion of patients meeting the 90-minute guideline when transported by EMS. The most successful region treated 76% of its patients within guideline goals by the end of the project.
The work highlights the crucial collaboration among paramedics, emergency medicine physicians and nurses, interventional cardiologists, and hospital administrators, Granger says. The results also confirm the importance of improved training and feedback to help hospitals and EMS agencies understand and develop standardized STEMI treatment protocols.
"For the first time in many of these regions, this project has provided a framework for bringing together groups that are critically important to providing the best emergency care," Granger says. "Even though the effect was modest overall, we proved that it is possible to significantly change care, and, if these results are leveraged and optimized over years of effort, there could be even more benefit."