Specialty CHF Clinic Helps Limit Readmissions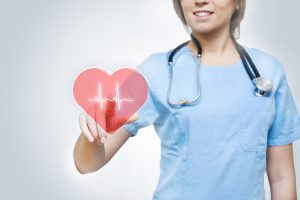 Patients with congestive heart failure (CHF) can avoid frequent readmissions to hospitals and emergency departments (EDs) by being referred by their health care professional to Duke Health's Heart Failure Same-Day Access Clinic, one of the first in the southern United States dedicated to CHF care.
A team comprising nurse practitioners, a nurse clinician, and a cardiologist provides intravenous medications, and the team members also help adjust medications, monitor fluid retention, and check respiratory function. Patients requiring more intensive care in the hospital can be referred from the clinic, often without involving the ED.
"Clinicians recognize that heart failure patients experience hospital readmissions or repeat ED visits at a rate higher than any population we work with," says Zubin Eapen, MD, cardiologist and director of the clinic. "Duke Health found a way to pair same-day access with intensive care by opening this clinic in 2012."
Providing efficient, focused care in a relaxed setting, the clinic is prepared for the most common presentations of CHF. Comfortable recliners, examination tables, televisions, and a central cardiac monitoring console offer a comfortable environment for patients and families.
"This clinic is best suited for low-risk, early stage heart failure," says Eapen. "But we also see a lot of end-of-life patients in palliative care situations who need to get their medications adjusted quickly to preserve their quality of life."
Most hospitals received lower reimbursements from Medicare during fiscal year 2016 because of patient readmissions within 30 days of discharge, according to Modern Healthcare. Of the 3,400 hospitals subject to the federal US Hospital Readmissions Reduction Program, 799 performed well enough to avoid penalties, according to the Centers for Medicare & Medicaid Services. Duke Health University Hospital has continued to avoid the financial penalty.
"Reducing readmissions is an area of intensive focus," Eapen notes, adding that the clinic represents an initial step toward moving care into the community and away from hospitals. "We are already piloting CHF care in skilled nursing homes."
The CHF clinic focuses on 3 patient groups:
Recently discharged patients requiring early follow-up
Patients with chronic disease needing frequent visits for medication adjustment, fluid monitoring, and care optimization
Patients referred by cardiology or primary care specialists with no options other than hospital admission or an ED visit
Unlike a walk-in urgent care clinic, health care professionals must refer patients or the patients must make appointments.
"It's not a silver bullet," Eapen cautions. "But our clinic uses a patient-centered approach to offer common sense care without requiring an ED visit or hospital admission."