A Shift Toward Overall Men's Health
Published
August 16, 2016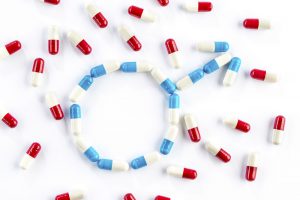 Historically, health care for men—if they visited a physician—usually meant having their vital signs obtained and a prostate examination performed. Men's health practice focused on single-system diseases, mostly of the genitourinary (GU) tract. In addition, conditions were typically treated in a targeted fashion, with little consideration for the interrelatedness of systems or the influence of factors beyond the GU tract.
At Duke Health, an evolution is occurring in men's health. Many concerns of aging men (eg, erectile dysfunction, infertility, low testosterone, frequent night-time voiding, prostate gland enlargement) are being treated by urologists. Because men are more frequently seen by their urologists than their primary care physicians, urologists are uniquely positioned to develop a more consistent, sustained relationship with these patients. Recognizing this opportunity, Duke Urology opened a new comprehensive health clinic for men in July.
"Men are taught to be independent, fearless, and strong. As such, they often avoid seeking help or acknowledging weakness or vulnerability, which can affect their health," says Duke urologist and reconstructive surgeon Aaron Lentz, MD, who serves as director of the clinic. "Because of the sex-specific health problems men face, we urologists have a unique opportunity to establish meaningful, longstanding relationships with our male patients," he explains.
Based at Duke Raleigh Hospital, the Duke Urology Men's Health Clinic will also emphasize healthy lifestyle changes, such as smoking cessation, alcohol awareness, physical fitness, and diet.
The center offers the services of 2 urologists, Lentz and Brian Whitley, MD, as well as a full-time primary care physician, an advanced practice provider, and patient navigator Betsy Hicks, who helps coordinate care based on what patients need in a particular decade of life. For example, some patients may need help reducing and managing sleep apnea, diabetes, or blood pressure, whereas others may simply need educational resources.
A centralized appointment line will connect patients to the patient navigator for an initial assessment and subsequent referral to appropriate specialists. The dedicated primary care physician offers annual physical examinations and preventive care examinations.
Within Wake County, NC, the extensive Duke network of primary care and subspecialist physicians provides all the necessary components for an integrated men's health program that can track outcomes as men reach different age milestones.
Lentz remarks, "Men have been relatively neglected in health care, and urologists have an opportunity to spearhead the men's health movement. Men's health centers are here to stay because we, as urologists, understand their value, and our communities have shown a desire for specialized centers for men."