Severe Pyloric Stenosis in an Adult
Published
September 27, 2016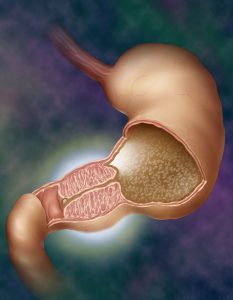 A 65-year-old woman with a history of peptic ulcer disease consulted a gastroenterologist after experiencing symptoms of nausea, vomiting, and early satiety for several months.
A standard endoscope could not be advanced through the pylorus into the duodenum, and findings on upper endoscopy revealed a large volume of retained food in her stomach. The patient was diagnosed with high-grade pyloric stenosis.
Given the high-grade nature of the pyloric stenosis, the gastroenterologist referred the patient to Rebecca A. Burbridge, MD, gastroenterologist and director of Advanced Endoscopy at Duke University Hospital.
Question: What innovative approach did Burbridge take to dilate the pylorus?
Answer: Burbridge used an AXIOS stent (Boston Scientific, Marlborough, MA), a novel, endoscopic, fully covered, metal-apposition stent, to take an aggressive approach to dilating the patient's pylorus.
Findings on upper endoscopy performed at Duke confirmed high-grade stricture of the pylorus that nearly obstructed the outflow of the patient's stomach.
Although Burbridge initially considered performing standard balloon dilation, she decided to deploy the AXIOS stent because it has been shown to be more effective in aggressively dilating severe short stenoses of the gastrointestinal (GI) tract than standard balloon dilation alone.
"The stent is quite effective in stretching open these strictures to the point where patients hopefully experience many months—and maybe even years—of relief," Burbridge says.
After a few days with the stent in place, the patient was able to tolerate a soft/low-residue diet for the first time in many months without nausea, vomiting, or early satiety.
The stent will remain in place for 3 months before the patient will return to have it removed. 
Duke is one of few centers using the stent for this off-label use. Burbridge explains that the stent's approved indication is to aid in the drainage of pancreatic pseudocysts.
Use of the AXIOS stent has also evolved into other areas of treatment, such as gallbladder drainage in the setting of acute cholecystitis and palliative GI bypass of malignant luminal blockages, in addition to the treatment of short strictures of the GI tract, including pyloric and anastomotic strictures.
Because use of the AXIOS stent for this off-label purpose is relatively novel, Burbridge notes that long-term outcomes following its removal are not well known. Still, she is optimistic about the stent's potential: "I've successfully treated 3 patients with pyloric stricture using the AXIOS stent," she says. "All are doing clinically well with much improvement in their symptoms and, more importantly, their quality of life."