Select Findings From the AAO Annual Meeting
Published
December 6, 2017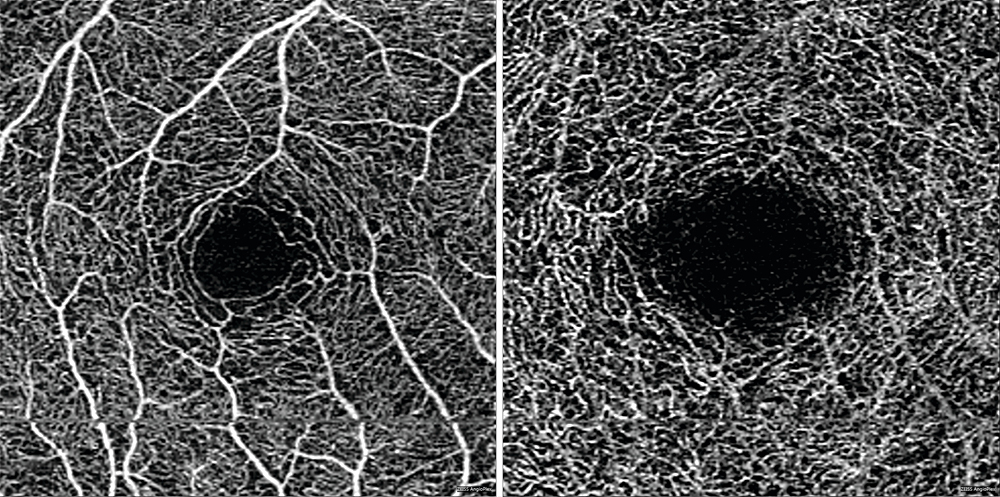 Photos courtesy of ZEISS.
Ophthalmologists from the Duke Eye Center presented more than 60 different symposia, laboratory techniques, posters, and more at the American Academy of Ophthalmology annual meeting, held November 11 to 14, 2017, in New Orleans, Louisiana. Findings from 2 poster presentations are highlighted below.
Using OCT Angiography to Investigate Correlation Between GCL Thickness and Microvasculopathic Changes
One study, presented by Duke retinal specialist Dilraj Grewal, MD, in a poster session on November 12, 2017, had several significant findings using optical coherence tomography (OCT) angiography in diabetes patients with and without diabetic retinopathy but without diabetic macular edema:
The dimensions of the foveal avascular zone (FAZ) in both the deep (DCP) and superficial capillary plexus (SCP) of the retina, a marker of microvasculopathic changes, correlated with ganglion cell layer thickness (GCL), a marker of neurodegenerative changes
Both FAZ size and GCL thickness correlated with visual acuity
Patients with diabetic retinopathy had worse vision, thinner GCL, and larger SCP FAZ than those without retinopathy
The results suggest that neurodegeneration may precede some microvasculopathic changes. The study also demonstrated that OCT angiography can be used to study the link between neurodegeneration and microangiopathy and may have important clinical applications in identifying the early signs of diabetes. "OCT angiography is providing more insights into the subclinical microvasculature and neurodegenerative pathologic changes in diabetic patients even before the development of retinopathy," Grewal says.
He adds: "The finding that changes in FAZ size, vessel, and perfusion density correlated with visual acuity as well as with GCL in all eyes demonstrates that there are significant subclinical microvasculature and neurodegenerative changes, even in eyes with no, or relatively mild, diabetic eye disease, good visual acuity, and no diabetic macular edema. More importantly, we found that these changes correlate with vision and with each other."
Future studies will help determine whether some of these early changes are potentially reversible, he says.
Effectiveness of ACE in Treating Symptomatic DED
In a second study, presented by Duke corneal specialist Preeya K. Gupta, MD, in a poster displayed on November 12, 2017, researchers found that amniotic cytokine extract (ACE) provides significant improvement in corneal staining (from a mean total corneal staining score of 8 pretreatment to 4.2 at week 4) and symptoms of dry eye disease (DED). The conclusion is based on a retrospective chart review of the outcomes of 43 patients receiving ACE twice daily for 30 days to treat symptomatic DED. Endpoints included visual acuity, symptom score, total corneal staining grade, and presence of adverse events and were assessed at baseline and after 30 days of treatment.
"This study is important because it assesses the outcomes of a novel therapy for DED," Gupta explains. "There are more than 30 million patients suffering from dry eye, and, while we have several therapies that are used to treat DED, many patients are still symptomatic."