Same-Day Discharges for Hip, Knee Procedures Increasing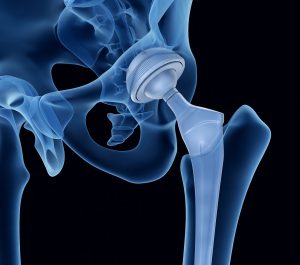 Duke orthopaedic surgeons are performing an increasing number of same-day discharge (outpatient) hip and knee replacement procedures. Partnering with other members of the multidisciplinary care team, eligible patients are identified in the preoperative setting and provided the opportunity for home discharge on the same day as surgery.
"Same-day discharge procedures are rapidly increasing in volume as patients become more aware and educated about their options," says Duke orthopaedic surgeon Michael Bolognesi, MD. "When a multifaceted, well-planned approach is taken, these procedures can be performed safely and successfully."
At Duke University Hospital, regular meetings are conducted with the hospital's care coordination group, and all same-day discharge cases are reviewed and planned with appropriate members of anesthesiology, nursing, physical therapy, occupational therapy, and discharge planning. This carefully planned approach enables anesthesiologists to determine the appropriate pain protocol and physical therapists to ensure they are available to clear patients for discharge home in an appropriate timeframe.
Similar pathways have been in place and are currently being refined at Duke Raleigh Hospital and Duke Regional Hospital.
Although they are not an option for all patients, same-day discharge procedures are ideal for those with minimal medical comorbidities who are generally healthy, motivated, and have an available home support system, such as engaged family members.
"For lower-risk patients, same-day discharge procedures can be done safely and predictably while avoiding an inpatient stay," says Bolognesi.
The same-day discharge program is available for a range of hip and knee replacement procedures and has been successfully carried out across all Duke hospitals. Duke performs approximately 3,000 hip and knee replacement procedures every year, across all 3 hospitals. The volume of procedures performed in the outpatient setting continues to increase—not only at Duke but also across the country.
Although some institutions have built outpatient programs around certain procedures such as anterior-approach total hip replacement, Bolognesi says that the experience at Duke has been that multiple procedures can be performed in the outpatient setting. In all cases, Duke orthopaedic surgeons select techniques that are as minimally invasive as possible and that are appropriate based on the patient case. Factors taken into account when determining the approach include the patient's body habitus, weight, and surgical history.
"Our surgeons benefit from the fact that Duke has a well-established system in place. We do everything we can to ensure the patient is doing well, feeling well, and moving well," says Bolognesi.
Anesthesiologists will often administer local and short-acting anesthesia that provides pain control but does not hinder the patient's mobility or ability to work with the physical therapist and be cleared for home discharge. In some cases, local injections administered to the soft tissues of the knee and hip as surgery is concluding can also dramatically help with pain control and still allow patients to remain mobile.
A number of pain-management techniques are available for patients undergoing hip and knee replacement, and all share the same goal of decreasing pain and pain-medication requirements while allowing for early ambulation. One example of a successful approach to pain management in knee replacement procedures is an adductor canal block. Many Duke anesthesiologists will place this block with an indwelling catheter, which addresses the patient's pain for days following the surgery, without interfering with the patient's motor function.
Ultimately, Bolognesi believes the same-day discharge program provides benefits to both patients and hospitals. He explains: "For patients, there is a higher level of satisfaction because they're able to go home the same day. For the hospital, it may lighten the patient burden and open bed availability. When we look at delivering quality care and balancing that with cost containment, this is a major opportunity for cost savings. There is no doubt we need to be able to offer this option to a subset of the patients in our care."