Robotic-Assisted Gynecologic Surgery
Published
February 2, 2016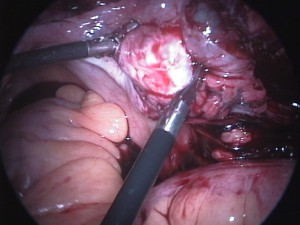 A 61-year-old postmenopausal woman presented for evaluation at the Department of Obstetrics and Gynecology at Duke. She had a recent history of hospitalization for left-lower quadrant abdominal pain.
Although treatment with antibiotics improved her symptoms, initial and repeat computed tomography showed a persistent, left-sided pelvic mass. At Duke, the patient consulted with gynecologic surgeon Angeles Secord, MD.
On pelvic examination, Secord found a normal-sized uterus with no palpable adnexal masses and no cervical motion tenderness. Ultrasonography revealed a thickened endometrial stripe; however, results on endometrial biopsy showed no hyperplasia or other evidence of malignancy. The patient's tumor markers were within normal limits.
Question: What abdominal exploratory techniques would make it possible to rule out malignancy while also maintaining superior cosmetic outcomes?
Answer: Secord discussed several options with the patient, including continued observation with pelvic magnetic resonance imaging and hysterectomy with bilateral salpingo-oophorectomy using traditional surgical approaches (eg, conventional laparotomy), multisite robotic-assisted surgery, or use of a robotic-assisted technique using a single surgical entry site at the umbilicus. The lattermost procedure was the agreed-upon option.
To perform the robotic-assisted, single-site surgical technique, Secord says she uses a single entry site at the umbilicus. She has been performing the procedure for about 1 year.
"Essentially, you can perform the surgery with 1 incision through the belly button and hide the incision, so it's virtually scarless surgery," Secord explains. "I felt that this benefit would be appealing to patients."
Because of the unidentified left-sided pelvic mass and the endometrial stripe, the patient opted for definitive surgery with hysterectomy and bilateral salpingo-oophorectomy using this new technique.
A 2.5-cm circular incision was made above the navel and a circular flexible port was inserted into the abdominal wall. Secord says that the port allows the surgeon to position the 8-mm camera and 2 curved robotic instruments used during surgery through the lateral aspects of the port. "The surgical instruments are more flexible than conventional laparoscopic instruments and can curve as they go through the port," she explains.
During surgery, Secord says that she discovered that the patient's left fallopian tube was filled with fluid, which is a finding consistent with hydrosalpinx. The left tube had adhered to the sigmoid mesentery. The left ovary appeared to be normal but had adhered to the large bowel and posterior aspect of the uterus.
"There were adhesions all over the left side," Secord says. "However, we were able to break down all of them."
The pathology report revealed that the patient probably experienced bowel perforation from diverticulitis, forming the adhesions and abscesses.
The patient was discharged the day following surgery. After 6 weeks of follow up, the patient reported that she was doing well and was very satisfied with the results.
"This surgery could have been performed with multiport or traditional single-port laparoscopy, but we would have had to convert to open abdominal surgery if we'd used traditional single-port laparoscopy," comments Secord.
She explains that single-site, robotic-assisted surgery is best reserved for patients whose body mass index (BMI) is less than 30 kg/m2 because skin and abdominal wall thickness may affect port placement. However, this patient had a BMI of 32 kg/m2 and, with some modifications, Secord was able to successfully place the port.
This single-site, robotic-assisted surgical technique can also be used to remove pelvic masses up to about 6 cm in size, says Secord. There is a slight increased risk for abdominal hernia at the incision site, because the incision is larger than what is used in multisite and conventional laparoscopy, so she says that patients are advised to avoid heavy lifting for 6 weeks following surgery.
Duke's gynecology program is consistently ranked as one of the best in the country for women's health, and it is at the forefront of women's reproductive health care. Its surgeons expertly and routinely perform minimally invasive and robotic-assisted surgical techniques for a wide range of gynecologic surgeries, which require smaller incisions, and result in faster recovery times, fewer complications, and less pain.