Researchers Identify Cause of ACL Injuries
Published
October 23, 2017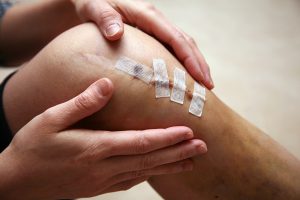 A series of studies on anterior cruciate ligament (ACL) injuries conducted by the Duke Musculoskeletal Bioengineering Laboratory have helped identify the cause of injury—a hard landing with a fully extended knee.
The laboratory has also demonstrated that anatomic graft replacement during ACL reconstructive surgery could reduce the development of degenerative osteoarthritis following repair. The goal of this research is to slow and prevent degenerative osteoarthritis following ACL injuries.
By studying bone bruise patterns among patients who have experienced ACL injury, the laboratory's researchers determined that the injury occurs when athletes land hard with a fully extended knee—not during the collapse of the knee joint.
The results allow orthopaedists to recommend techniques to prevent ACL tears, which continue to increase in prevalence in the United States, says Louis E. DeFrate, PhD, director of research at the Musculoskeletal Bioengineering Laboratory, mechanical engineer, and the Frank H. Bassett III, M.D. Associate Professor of Orthopaedics.
"We have been focusing on the wrong thing in terms of what causes ACL injury," says DeFrate. "Cameras capture footage of valgus collapse of the knee, which leads researchers to associate this with ACL injury. Instead, ACL injury occurs with a straightened joint, usually without contact." With this new information, athletes should now be advised to avoid hard, straight-leg landings.
The group's research on ACL reconstruction was conducted over 6 years in 5 studies that used novel imaging and modeling techniques to analyze multiple aspects of joint performance and repair.
The most recent study on surgical repair of ACL tears by the Duke laboratory, published in March 2017 in the Journal of Orthopaedic Research, used in vivo knee imaging studies to compare 2 graft placement techniques used in ACL reconstruction.
To assess the effect of the techniques in slowing osteoarthritis, the study examined results from 2 distinct graft placements:
Placing the ACL anatomically near the center of the native ACL footprint
Placing the ACL anteroproximally on the femur, centered outside of the ACL footprint
The study quantified the effects of placement on graft deformation and examined ways in which these variables affected knee motion. The results suggest that femoral placement of the graft influences cartilage thickness and contributes to the earlier onset of osteoarthritis.
Achieving anatomic placement is a critical factor in restoring normal knee motion and potentially slowing the development of degenerative changes after ACL reconstruction, DeFrate says.