Research Sheds Light on Clinical Paradox of T2DM Fracture Risk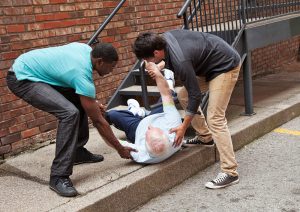 A study by Duke endocrinologists has found that older male veterans with type 2 diabetes mellitus (T2DM) have a 22% higher risk of incident clinical fracture than those without the condition, despite the higher bone density in men with T2DM. The new research suggests that the high risk in men with T2DM may be due to diabetes-related comorbidities.
The research highlights proactive interventions that may help clinicians reduce the risk of bone fracture among older male patients. Patients with T2DM are generally more obese and bear more weight than men who do not have diabetes. The study found that peripheral neuropathy, cardiovascular disease, and congestive heart failure—all associated with T2DM—contributed to the high fracture rates.
The key finding for clinicians is that older male patients with T2DM face more functional challenges, says Richard H. Lee, MD, the lead author, who practices in the bone clinic in the Duke Division of Endocrinology, Metabolism and Nutrition. Peripheral neuropathy, cardiovascular disease, and congestive heart failure—all associated with diabetes—contribute to the higher fracture rates among patients with T2DM, he says.
"The research indicates that those factors account for about 50% of the increased fracture risk related to the diabetic condition," Lee says. "The patients with T2DM may be more frail, and they have a greater risk of falling."
Lee and the other authors offer several recommendations as interventions to reduce fracture risk:
Encourage bone health evaluations for patients with higher risk, including regular bone density scans
Minimize fall risks and inquire about hazards within the home; when possible, engage family members to help minimize fall risks
Supplement diets with calcium and vitamin D
Published in The Journal of Clinical Endocrinology & Metabolism in January 2018, the retrospective study included all male veterans 65 to 99 years of age who received primary care in the Veterans Health Administration. Of the 2.7 million veterans included in the cohort, the medical records of approximately 1 million patients with diabetes were evaluated based on data collected by the Centers for Medicare and Medicaid Services Medicare fee-for-service data. The researchers described the project as the largest cohort study among older men assessing diabetes mellitus and fracture risk.
"The data obviously translate well to all older male patients with diabetes and has clinical relevance for us right now," says Lee.