Repairing RUF in a Man After Surgery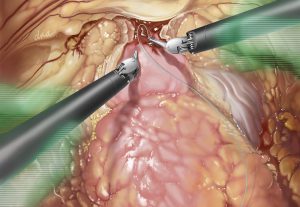 After developing sepsis following robotic-assisted laparoscopic prostatectomy for prostate cancer, a man was rushed to the intensive care unit where he was placed on antibiotics. The procedure also resulted in injury to his rectum, so his surgeons performed colostomy and bilateral percutaneous nephrostomy to divert feces and urine from the injured area while they worked on stabilizing his condition. However, once the sepsis was resolved, the injury failed to heal.
The patient was referred to Andrew Peterson, MD, a reconstructive surgeon at Duke Urology. Cystoscopy and findings on cystogram revealed rectourethral fistula (RUF).
Question: What approach was taken to repair the RUF, restore bowel and bladder function, and minimize his risk of further injury and complications?
Answer: A team of Duke specialists worked together to develop a plan of staged repair in which each step would be performed individually.
In tandem with colorectal services, led by Christopher Mantyh, MD, chief of the Section of Gastrointestinal and Colorectal Surgery, and the Division of Plastic Surgery, including Detlev Erdmann, MD, a plastic and reconstructive surgeon, Peterson says he has developed a detailed clinical care algorithm based on the group's extensive experience in treating patients with RUF.
"We observed that the RUF patients being referred to us had experienced a significant amount of disjointed care," Peterson says. "A urologist had given them one plan and a colorectal surgeon another. Many plastic surgeons were completely unfamiliar with the problem. By the time they were getting to us, they were often very angry and frustrated—we decided to develop one coordinated, concise pathway."
Mantyh describes the group's approach: "When a patient comes in, we can see where they are on the algorithm and agree on what steps need to be taken. We plan sequential treatments to ensure each step is successful before moving on to the next. Performing complicated surgeries on a patient with sepsis only increases the chance of further injury, as what happened with this patient."
In this case, the patient's urethra was almost obliterated, indicating he would require complex surgical intervention. But first, Peterson managed the residual infection by placing the patient on another round of antibiotics. Once the sepsis had resolved, the patient was given hyperbaric oxygen therapy to help heal the fistula and improve his surgical outcome.
To repair the RUF, the patient underwent 3 reconstructive surgeries in the same day: Erdmann performed gracilis muscle interposition, Peterson repaired his bladder, and Mantyh repaired the rectum.
The surgery was successful. Four months later, Mantyh reversed the colostomy, and Peterson removed the nephrostomy tubes. The one outstanding side effect was urinary stress incontinence due to injury to his urinary sphincter during robotic-assisted laparoscopic prostatectomy. To address the incontinence, Peterson performed artificial urinary sphincter surgery once the colostomy and nephrostomy sites had healed.
Peterson says at the patient's last follow-up visit he was no longer experiencing urinary incontinence, and Mantyh reports that the patient is able to eat a regular diet with no bowel problems.
"The most important end point here," Peterson says, "was getting the patient back to his normal quality of life. Here was a man who came to us in a stretcher, who was severely debilitated after his injury, but, by working as a team to follow the codified pathway we developed, we got him back to a man who can live a normal life on his own."
"It's really a life-changing operation," Erdmann remarks.