Reaping the Rewards of Team-Based Care
Published
November 20, 2017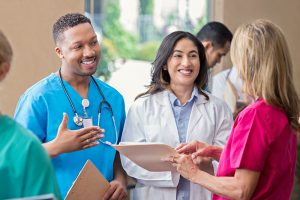 Preventive care and chronic disease management swallow up huge amounts of clinicians' time. Researchers at Duke's Department of Community and Family Medicine calculated that it would take 21.7 hours of each day to provide all the necessary evidence-based preventive care and chronic disease management for a 2,500-patient panel, and another study estimated that nearly one-half of a physician's workday is spent performing tasks outside of the exam room. The result is frustrated patients, burned out clinicians, and decreased quality of care.
Team-based care offers a solution to the increasingly difficult demands of clinical practice. Simply put, it is a health care system model in which all members of the health care team—physicians, physician assistants, nurses, medical assistants (MAs), and administrators—play an integral role in providing patient care by working at the highest levels of their training. It's built on the premise that it doesn't take a physician's expertise to do many of the daily tasks required in clinical practice, such as administering a flu shot, scheduling a mammogram, documenting a visit, or calling in prescriptions. All these tasks and others take up valuable clinician time that could be better spent examining, diagnosing, and treating the patient—which is what most physicians really want to be doing.
And the benefits? They can be substantial, says Alison Winkler, MPH, a senior practice development specialist at the American Medical Association: greater work satisfaction for the entire team, better communication, less physician burnout, and improved patient satisfaction and quality of care. An increase in revenue is also likely.
Many health care professionals, though, are still relying on outmoded practice management strategies to facilitate constantly evolving evidence-based care. "You're stuck trying to do modern day practice using an old model, "says Kevin Grumbach, MD, chair of Family and Community Medicine at the UCSF School of Medicine. "You're driving down the highway in a Model T Ford, and you just aren't going to get to your destination."
The first step in transitioning to team-based care is to define practice goals and measurable objectives, such as improved patient health, physician and staff satisfaction, and financial performance. Practices also need to clearly identify the workflow process throughout the patient visit, from making appointments to discharge and follow-up. Then individual team members can be assigned to tasks according to their skill levels.
RESOURCES

American Medical Association's STEPS Forward™
Free online practice improvement training program accessible to anyone regardless of practice size or employee background. Learning modules cover general concepts of team-based care; team-based approaches to immunization, diabetes care, pre-visit laboratory testing, expanded rooming and discharge protocols; and team documentation. Case studies of practices incorporating team-based models are also highlighted.
The UCSF Center for Excellence in Primary Care
Webinars, publications, and downloadable tools for developing and improving team-based practices, including workflow mapping charts, sample standing orders, and a scribing evaluation toolkit. The Center also offers practice coaching in team-based care
Winkler suggests that practices first look at leveraging the support staff they already have, rather than hiring new staff. "MAs are particularly underutilized," she says, "with many practices using them for just rooming and vitals." Although regulations vary from state to state regarding what tasks MAs can perform, with appropriate training, MAs can also serve as scribes, perform routine monitoring tests, triage calls and emails from patients, coach patients about treatment action plans, facilitate medication refills and referrals, and help with patient discharge. "I've repeatedly seen vastly improved career satisfaction and much lower attrition rates among MAs when they are allowed to perform at the top of their skill set," says Winkler. "And that's good for the practice's financial bottom line."
Larger facilities and health care systems, Grumbach says, benefit from the creation of "teamlets," where 1 or 2 MAs work consistently with the same physician on a day-to-day basis. Some training for team members in their new roles is often necessary, but it can be accomplished using online resources such as those listed in the resources box or using a local service agency or facilitating service.
Good communication among team members is key. "It's often not enough to just put a bunch of people on a team and give them assignments if you don't invest in the actual process of teamwork development," Grumbach says. He recommends a weekly 1-hour team meeting to review progress, discuss protocols, and implement any changes.
Finally, team-based care can be a revenue generator because of increased efficiency. "I would say, on average, physicians are able to see about 2.5 new patients per session, so that can be anywhere from 4 to 5 new patients per day," says Winkler.