Rare Malformation Identified in Patient With Vein Compression
Published
October 9, 2017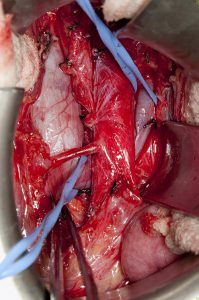 Reprinted with permission from Said SM, Gloviczki P, Kalra M, et al. Renal nutcracker syndrome: surgical options. Sem Vasc Surg. 2013;26:35-42.
A 25-year-old woman experiencing lower back pain, hematuria, and swelling in her lower joints and limbs presented to a urologist in western North Carolina. Following laboratory tests and a computed tomography (CT) scan, physicians diagnosed her with Nutcracker Syndrome, a renal vein entrapment condition with multiple variants. The patient was referred to the Duke Division of Urology to consider treatment options.
A urologist suggested that the patient consider non-surgical therapies, such as blood thinners or the insertion of a stent. But the patient, preparing for a career in law enforcement, expressed concern that the lifelong use of blood thinners might limit her professional opportunities and that the stent might not provide a permanent solution. She asked about surgical options and was referred to Cynthia K. Shortell, MD, Duke's chief of vascular and endovascular surgery.
Questions: What unusual entrapment malformation did Shortell identify? What procedure did Shortell recommend to provide a curative solution?

Answers: The patient's vena cava was situated on the wrong side of her body, compressed between the mesenteric artery and the aorta. After discussing options and risks with the patient, Shortell performed an uncommon procedure—transposing the gonadal vein onto the vena cava to decompress the left renal vein; the standard technique involves only the renal vein.
Shortell says the gonadal vein procedure confers a lower risk of renal vein thrombosis and subsequent kidney loss than renal vein transposition or renal vein stenting.
"We dissect the gonadal vein, swing it over within the retroperitoneum, and attach it to the vena cava," says Shortell. "That allows blood from the renal vein to flow into the vena cava instead of flowing through the renal vein itself and thereby decompresses the renal vein, relieving the patient's flank and pelvic pain."
The procedure was curative. Following a routine, post-operative, temporary course of blood thinners, the patient gradually regained full function and was free of symptoms. Thirteen months after surgery, she began to train for the physical component of the federal law enforcement program, and she successfully completed that training in less than 2 years.
Shortell, who is often contacted by self-referring patients for this condition, has performed 47 renal entrapment surgeries so far in 2017. She cautions that diagnosis of the condition is challenging.
"There is a lot of confusion around how to treat Nutcracker Syndrome and other entrapments," she says. "Imaging is not always definitive. Some patients don't have true Nutcracker Syndrome." Shortell looks for 3 specific criteria:
Cross-pelvic collateral (a condition in which blood is being forced in the wrong direction because of abnormal flow)
Hematuria
Pain in flank or pelvic regions that is anatomically aligned with the areas of compressed blood flow
"For patients who meet these criteria, our corrective procedures have a very high success rate," she says.