Rare Condition Diagnosed in Patient With Dry Gangrene, Limb Numbness
Published
January 29, 2018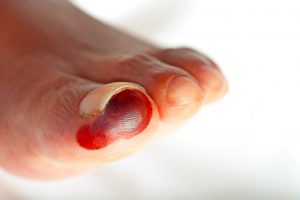 A 49-year-old white woman with seropositive rheumatoid arthritis presented to her Charlotte, NC rheumatologist with left foot dry gangrene. She had undergone joint resection in 2015 to correct a hammer toe. The patient's recovery was difficult and complicated by left foot drop as well as residual numbness and weakness. This was initially attributed to an unexpected complication of regional anesthesia.
Given persistently poor wound healing over the next year, she was diagnosed with osteomyelitis and treated with antibiotics. She ultimately underwent a partial amputation of 2 toes on the left foot. Shortly after, she continued to have progression of ischemia of the left foot with worsening numbness as well as new bilateral wrist drop. Electromyography (EMG) revealed lack of response in 14 of 20 nerves in all 4 limbs, consistent with axonal and demyelinating injury. Her prednisone was increased to 60 mg daily by her local rheumatologist, and she was transferred to Duke in March.
Questions: What rare condition was diagnosed? What treatment was prescribed?
Answer: The patient was diagnosed with rheumatoid vasculitis (RV) causing limb ischemia and mononeuritis multiplex. Working with vascular surgeons, Duke rheumatologist Atul Kapila, MD, initiated aggressive therapy with high-dose steroids and cyclophosphamide infusions. The patient also underwent a transmetatarsal amputation (TMA) of her foot shortly after transfer.
One month later, the patient required a revision of her TMA because wound healing concerns required wound vacuum placement. Following this procedure, the ischemia and discoloration improved. The patient experienced no further neurologic deficits or new ischemic lesions and did not recover the original peripheral nerve loss associated with RV.
Her prednisone dose was gradually tapered, and she completed 6 treatments of monthly cyclophosphamide prior to transitioning to rituximab for long-term rheumatoid arthritis management. Her care was returned to a rheumatology practice near her home, with Kapila continuing to assist in her management plan.
"RV is an unusual complication of rheumatoid arthritis. When it is diagnosed, the disease requires aggressive therapy that is managed most effectively in a large center with multidisciplinary consults," Kapila says. "Even though the condition is rare, we have not made much headway in improving mortality."
RV has become even rarer in the last 2 to 3 decades because of earlier and more aggressive treatment of rheumatoid arthritis, as well as the introduction of biologic drugs in the late 1990s and early 2000s, Kapila says. Unlike other types of vasculitis, RV can affect large, medium, or small vessels. One must also exclude vasculitis mimickers, such as atherosclerotic or thromboembolic disease.
Patients who present with RV typically have a more severe and erosive form of rheumatoid arthritis with a longer median disease duration of 10 to 15 years. Tobacco use is also associated with the development of RV, Kapila says.