Quality of Life Improved by Daily Draining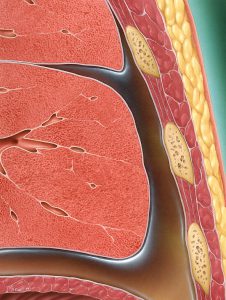 Patients experiencing pleural effusions due to malignancies could experience an increased rate of pleurodesis and faster time to being catheter-free if they drain pleural fluid daily rather than every other day with an indwelling pleural catheter, according to a study published in November 2016 in the American Journal of Respiratory and Critical Care Medicine.
The study reports the results of a randomized, single-blinded, phase 4 clinical trial that involved 12 US-based centers from 2009 to 2013.
Dyspnea and shortened life expectancy are common among patients with malignant pleural effusions, but daily drainage contributes to improved outcomes, says Momen W. Wahidi, MD, a Duke interventional pulmonologist and the study's lead author and principal investigator. Duke Health directed the 4-year study and coordinated data involving more than 160 patients in 2 groups.
"By demonstrating that daily drainage is more effective and contributes to quality of life—primarily by freeing patients from the catheter more quickly—we believe this will improve care for individuals living with a cancer diagnosis," says Wahidi.
The indwelling pleural catheter was introduced in the 1990s as a less-invasive, effective alternative to chemical pleurodesis. The catheter can be managed at home, allowing intermittent drainage of fluid using disposable vacuum bottles (Figure).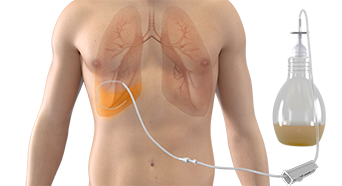 FIGURE. Pleural catheter and vacuum bottle. Courtesy and © Becton, Dickinson and Company. Reprinted with permission
Use of indwelling pleural catheters has rapidly increased in the past decade, but questions have persisted about optimal drainage frequency and its effect on achieving autopleurodesis, which is defined as cessation of pleural drainage without instillation of a chemical agent in the pleural space with relief from dyspnea.
Pulmonologists typically recommend either daily or every-other-day pleural drainage. "Most patients and their family members are eager to drain fluid and feel better," Wahidi says. "It's an empowering act that allows patients to have some control over their symptoms and well-being."
Most patients are willing to drain fluid as frequently as recommended by their physician. However, the study was the first to offer guidance on drainage frequency based on research, Wahidi says.
The study compared the incidence of autopleurodesis and time-to-autopleurodesis between 2 participant groups: an aggressive-drainage group, who drained fluid daily, versus a standard-drainage group, who drained every other day.
Those in the aggressive-drainage group achieved autopleurodesis at a higher rate and in a shorter time than those in the standard-drainage group. A participant survey reported high levels of satisfaction among those using daily therapy.
The results confirmed the instincts of pulmonologists regarding daily outpatient drainage. "Any patient with cancer that causes pleural effusion—lung or breast cancers, for example—and experiences shortness of breath will see a benefit from this fluid-removal process," Wahidi says. "It will have a significant, positive effect on quality of life."
Save