Q&A With Duke's New Director of Ophthalmic Oncology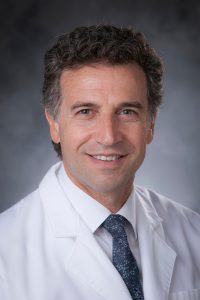 Miguel Materin, MD
Ocular oncologist Miguel Materin, MD, joined the Duke Eye Center as the director of ophthalmic oncology in the fall of 2016. His clinical interests include the diagnosis and treatment of ocular tumors, with a particular focus on ocular melanoma, retinoblastoma, metastases to the eye, choroidal hemangiomas, retinal hemangioblastomas, and tumors related to other conditions or syndromes, such as von Hippel-Lindau syndrome and tuberous sclerosis. He also serves as the president elect for the Pan American Society of Ocular Oncology.
Question: During your more than 20 years in the field, what changes have you seen in the way ocular tumor prognoses are made?
Materin: The most notable change I've seen is in the way we evaluate prognosis for uveal melanoma, the most common primary intraocular malignant tumor in adults. Whereas previously the focus was primarily on tumor size and location within the eye, we now combine those factors with cytogenetics, using either DNA or RNA analysis of tumor samples. Analysis of chromosomes 3, 6, and 8 is used for DNA.
At Duke, we focus more on RNA (gene expression programming). Based on gene expression profiling, we can classify uveal melanomas as class 1a, 1b, or 2. Class 1a tumors have a better prognosis than class 2 tumors. Recent research has also revealed new genes such as PRAME, which could be another predictor for more aggressive tumors.
Question: How have these new findings affected the field's approach to treating melanoma?
Materin: Biopsy is routinely performed to determine the cytogenetics of the tumor in most specialized ocular oncology centers. By combining different factors, such as tumor size, location, and cytogenetics, among others, we can determine prognosis. If patients have high-risk melanoma, then we will plan to be more aggressive in terms of systemic surveillance, and we might offer to enroll them in a clinical trial.
Question: Are there any other significant advances in the treatment of ocular tumors?
Materin: Another exciting change is that we have 2 relatively new methods for delivering chemotherapy in retinoblastoma: intra-arterial and intraocular chemotherapy. With these methods, we can often avoid enucleation, external-beam radiotherapy, and even systemic chemotherapy. Systemic chemotherapy is still a good weapon we have to treat patients with retinoblastoma—the most common primary intraocular malignant tumor in young children—but it's great that we are able to use it less and less to prevent systemic adverse events caused by this treatment.
SaveSave