Program for Enhanced Recovery After Surgery Continues to Expand
Published
September 27, 2016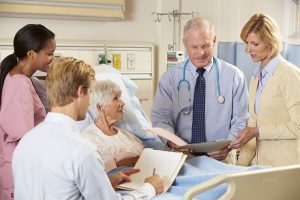 A perioperative protocol designed to improve surgical outcomes, reduce costs, and accelerate patient recovery times continues to expand across the United States.
Two Duke physicians—colorectal surgeon Julie K. Thacker, MD, and anesthesiologist Timothy E. Miller, MD—pioneered action plans for enhanced recovery after surgery (ERAS) in the United States. They collaborated to adopt and expand practices already embraced by surgeons in Europe. Thacker is the medical director of the enhanced recovery program at Duke Health.
"Enhanced recovery is continually evolving and expanding to other surgical procedures and to more medical centers," says Thacker. "The evidence regarding outcomes and cost savings is clear." 
However, she adds, "The most convincing experience is working with a patient who has benefited from the approach. There's a remarkable improvement in nearly all surgical outcomes compared to care with traditional approaches."
In 2010, Thacker and Miller initiated ERAS for patients undergoing colorectal surgery. Its adoption has steadily grown, expanding to 9 additional service lines.
Thus far in 2016, more than 800 patients at Duke Health from various surgical specialties—urologic, colorectal, transplant, gynecologic, liver, pancreatic, and plastic surgery—will undergo their operation with the enhanced communication, preparation, and engagement that characterize ERAS. That represents an increase of nearly 25% over 2015, which is when enhanced recovery principles were applied to 650 procedures.
When care principles of ERAS are adopted, metrics show significant reductions in rates of length of stay, readmission, unplanned reoperation, wound complication, sepsis, and urinary tract infection (Table).
Table. Improved Outcomes Observed in Key Surgical Metrics
| | | |
| --- | --- | --- |
|  Surgical Metric | Without ERAS | With ERAS |
|  Average length of hospital stay, d | 8 | 5 |
|  Readmission, % | 14.0 | 10.0 |
|  Unplanned reoperation, % | 7.0 | 3.0 |
|  Wound complication, % | 29.5 | 7.6 |
|  Sepsis, % | 9.0 | 1.8 |
|  Urinary tract infection, % | 7.4 | 2.8 |
Significantly, Thacker says, ERAS can result in a 10% reduction in the cost of care for each patient.
Moving Along the Care Map
ERAS establishes postoperative criteria to keep patients moving along a care map. Together, these protocols provide a detailed, evidence-based action plan to guide patient education before surgery and engage patients early in recovery.
Typically, a health care professional spends 30 to 90 minutes in a one-on-one discussion with the patient, explaining the surgical plan and expectations for recovery. That way, patients understand what they need to accomplish while in the hospital.
Although overnight fasting is required for early-morning procedures, patients assigned to ERAS receive a carbohydrate-loaded drink with electrolytes, minerals, and vitamins 3 hours prior to their surgical procedure.
Non-narcotic pain medications and regional anesthesia are used to manage postoperative pain. Patients receive only the necessary level of intravenous fluid. Postoperatively, they are encouraged to walk and ingest solid food. The objective is to shorten their length of hospital stay and discharge them home with normal eating patterns and sleeping routines as soon as possible.
Promoting the Protocols
The Duke ERAS team founded the nonprofit American Society for Enhanced Recovery in 2014 to educate operating room teams and promote the metrics demonstrated by ERAS in practice. The society holds a yearly national conference and hosts educational events.
The program also continues to attract attention from the medical industry as well as consumer media. The Wall Street Journal published a story about the recovery plan in 2015.
"That age-old 'when the doctor says I can go home' conversation is no longer relevant because the patients are more involved and more engaged in their own recovery," says Thacker, who was tapped by the American College of Surgeons to encourage the nationwide adoption of the protocols.