Published
September 27, 2016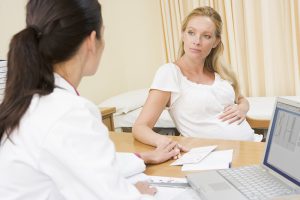 A pregnant woman with no abnormal values on laboratory tests or signs of complications gave birth to a 1-pound, 6-ounce male neonate at 23 weeks. Although he underwent intestinal surgery and was successfully treated for sepsis, he was unable to gain weight and died after 6 months in the neonatal intensive care unit.
One year later, the woman decided she still wanted to have a child but feared having another preterm birth. After researching obstetricians, she consulted Amy P. Murtha, MD, interim chair of the Department of Obstetrics and Gynecology and coinvestigator of the March of Dimes Prematurity Research Center, a transdisciplinary, multi-institutional initiative dedicated to understanding the biologic and genetic factors that contribute to prematurity.  
Question: What measures did Murtha take to help the patient have a successful, full-term pregnancy?
Answer: Murtha administered weekly injections of progesterone and monitored the patient for cervical insufficiency every 2 weeks.
Although the etiology of preterm birth is not well understood, Murtha explains that there are a number of ways to reduce the risk, including measures such as weekly progesterone injections, which reduce a woman's risk by approximately 30%, monitoring of cervical shortening to determine whether transvaginal cerclage is necessary, and low-dose aspirin.
Then, depending on a patient's needs, additional steps can be taken, such as referral to a social worker or nutritionist.
"What we do differently at Duke is providing that additional support," says Murtha. "The thought of losing a child again can be unbearable—just as important as the medical intervention is providing the emotional support and tools needed for patients to succeed in their current pregnancy."
In this case, Murtha offered to refer the patient to a social worker, but the patient decided she had the support she needed, in large part thanks to Murtha's own to efforts to understand and acknowledge the patient's difficult circumstances.
At week 39, to the delight of both Murtha and the patient, the patient gave birth to a healthy, 7-pound, 5-ounce baby girl. "The patient is just floating on air," Murtha reports.
Murtha hopes her ongoing prematurity research for both the March of Dimes and her own laboratory program will help uncover the factors responsible for weakening the fetal membrane during preterm birth so more preterm births can be prevented.
In the meantime, she focuses on providing the best care possible. "It's not just about giving patients a shot," Murtha says. "We do offer all the technologies available, but we also try to educate patients about the risk factors and help them recognize when they need to go to a doctor or receive additional support. It's a comprehensive approach."