Practice-Based Clinical Trials: Benefits and Barriers
Published
January 19, 2016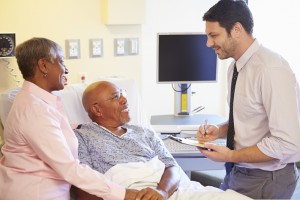 Ways to Get Involved With Clinical Trials
Contact the Clinical and Translational Research Institute at the academic medical center closest to your practice.
Register as an interested physician with pharmaceutical companies and other sponsors conducting research in your practice area or in populations similar to your practice population.
Locate a practice-based research network in your area.
Research companies like Emerson Clinical Research Institute that work with practice-based physicians to recruit study participants.
Network with researchers in your field at conferences or medical society meetings.
Although approximately 3% of practicing physicians are involved in the roughly 74,000 registered clinical trials currently under way in the United States, developments in health care during the past 10 years help make it easier for office-based clinicians to participate. "The Affordable Care Act is adding layers of infrastructure designed to collect and understand data," which can set the stage for research activities, says Katherine Kahn, MD, distinguished chair in Health Care Delivery Measurement and Evaluation at the RAND Corporation.
In addition, clinical research is increasingly being seen as a team-based activity in which both patients and clinicians should play a bigger role. Establishing new models for clinical research, including patient-centered outcomes research, comparative effectiveness research, and pragmatic (or practical) trials, depends on greater clinician participation.
Benefits of Clinician Involvement
Community-based physicians bring real-world perspective to clinical trials, resulting in more relevant study questions and a more patient-centered approach to research. For example, Kahn explains, although most studies are conducted in adults aged 18 to 65 years, many physicians are interested in drug effects in the elderly, who take more medications and process them differently than younger patients. Thus, involving practicing clinicians earlier in the research process could result in study questions that more closely reflect the clinical conundrums physicians and patients face each day.
Community-based physicians may also be the key to reaching special patient populations and boosting minority participation in clinical trials. Although most medications work similarly in people of different backgrounds and ethnicities, some exceptions exist, says Fabian Sandoval, MD.
Sandoval is a former clinical researcher at the National Institutes of Health, and he is also the founder of Emerson Clinical Research Institute, a company aimed at increasing minority participation in clinical trials by bringing clinical trial capabilities to community-based clinics and practices. As Sandoval points out, Hispanics compose 16% of the US population, yet 1% of participants in clinical trials are Hispanic. Increasing diversity among clinical trial participants could lead to new insights into risk factors and more equitable and effective care for patients.
Clinical trial participation can also benefit clinicians and staff members. Nitin Damle, MD, president-elect of the American College of Physicians, has been conducting clinical trials in his Wakefield, RI, internal medicine practice since the 1990s. "[Research] brings me close to science and brings a new dimension to my practice," he says. It has also helped him develop new skills and improve others, such as documentation and writing grants and journal articles.
Clinical trials can also boost morale among staff members. "The staff is learning something new about medication and treatment," Sandoval says, and that keeps coming to work interesting.
Overcoming Barriers
Office-based physicians face several barriers to clinical trial participation. One is the "catch 22" experienced by physicians who have an interest in research but have not previously participated in trials. "Sponsors want to work with experienced practices, but it's hard to get the experience if you haven't been part of a trial," says Sandoval.
Running clinical trials within a practice also requires a particular type of infrastructure. For example, staff members must receive training on informed consent, working with Institutional Review Boards, and research ethics. In addition, clinicians and staff should be aware of possible bioethical issues. Staff members must not put undue pressure on patients to participate in trials and must ensure that patients who refuse or withdraw are not treated differently.
Most practices solve this by having separate staff members who oversee enrollment, informed consent, and other research-related processes. Most practices must also set up another entity to keep the finances and other operations of the clinical trials separate.
Sponsors usually pay clinicians a certain amount per study participant recruited at the practice—anything from a few hundred dollars to several thousand dollars, depending on the requirements of the trial. The compensation is usually enough to allow a practice to participate without losing income. Sandoval points out that profit should not be a reason to participate in clinical trials. "If you're doing it for the money, forget about it," he says.
A much better reason to participate is "for the patients," Sandoval adds. Participating in clinical trials can give patients access to new treatment options or off-label uses of medications. It can also provide free medications and care for patients who are struggling with health care costs. Patients may receive laboratory tests, procedures, and examinations for which insurance companies would not necessarily pay.