The Practical Playbook: An Idea Whose Time Has Come
Published
February 12, 2018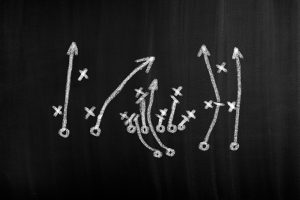 To improve population health, primary care providers (PCPs) can partner with allies in public health and the community, but clinicians often don't know where to begin. That's where the Practical Playbook comes in—and it has little to do with football.
The Practical Playbook is a joint effort between Duke Community and Family Medicine, the de Beaumont Foundation, and the Centers for Disease Control and Prevention to define concrete methods for integrating primary care and population health.
"People thought it was crazy. Make coordination of health care with public health like a playbook? But the name stuck," says J. Lloyd Michener, MD, chairman of the Duke Department of Community and Family Medicine and the principal investigator for the Practical Playbook.
Launched in 2014, the Practical Playbook's website (www.practicalplaybook.org) walks clinicians, public health officials, and other stakeholders through the basics of selecting a health outcome to improve, finding partners to collaborate with, reaching out to the community, and aligning stakeholder goals.
The website includes numerous Practical Playbook success stories from around the country. One example involves the goal of reducing hospital admissions for childhood asthma in Durham, NC, and surrounding areas. "We saw asthma hospital admissions drop by 68% over about 2 years," Michener says.
The Practical Playbook's principles are now considered so important that major professional medical societies and many public health departments are heavily promoting it to health care providers.
Karen Smith, MD, a solo family physician in rural Hoke County, NC, used the Practical Playbook to address obesity among her patients. Although she ran into some roadblocks, her efforts opened up communication with other physicians in the area, the local health department, and even the county commissioners. "The Practical Playbook literally goes through step by step what it is we should be doing," she says.
Michener offers a final suggestion for health care providers: "Talk to your public health director—there's a good probability there's already a project under way. Just learn what others are doing and see how you might be able to help."