Population Health Management Program Helps Improve Kidney Care
Published
December 6, 2016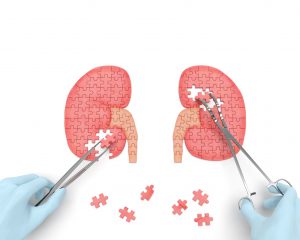 Duke nephrologists, primary care physicians (PCPs), and data scientists have created an innovative chronic disease management program to improve the health of thousands of patients at risk of kidney failure.
Chronic kidney disease (CKD) begins as a silent illness that typically causes no symptoms until its later stages, when it may lead to death and disability. Prompt detection and treatment can slow or stop the progression of the disease. Many persons living with CKD are unaware they have the condition.
The program uses predictive analytics to monitor patients served by Duke Connected Care (DCC), a provider-led organization accountable for the cost and quality of health care provided to patients on Medicare who receive most of their care at Duke.
The program originated when multiple groups within Duke Health noticed the growing number of patients with advanced kidney disease. These patients were often identified too late to avoid devastating complications.
"The scale of the problem was astounding," says C. Blake Cameron, MD, a Duke nephrologist. "It forced us to rethink how we care for chronic illness and meet patients' needs without overwhelming the system. We needed data-driven surveillance and monitoring tools. We needed to streamline referrals. We needed to create new collaborations between PCPs and specialists."
Risk-prediction software helps the team identify patients at risk who require urgent action. "We ranked our 45,000 Medicare beneficiaries from top to bottom according to kidney failure risk using clinical measures already available in the electronic health record," Cameron says.
"We found 12,000 individuals with CKD of at least moderate severity," Cameron adds. "Within that group, nearly 2,000 were on the precipice of kidney failure and dialysis. Many patients were not aware of the problem."
Led by Cameron and Eugenie Komives, MD, senior medical director of DCC, a team that includes a pharmacist, care coordinator, care manager, and a database analyst, reviewed more than 750 charts of patients at the highest risk during weekly "population rounding" meetings that began in June 2015.
The team works with the DukeWELL care management service and Duke Primary Care practices to slow the progression from CKD to kidney failure and to streamline transitions to kidney failure when it becomes inevitable.
The Duke Institute for Health Innovation (DIHI) contributed seed funding and data expertise to build the surveillance and care management tools. Cameron, who earned a master's degree in clinical informatics during his nephrology fellowship training, says analytics offer efficient, effective large-scale patient screening.
But predictive analytics are only part of the solution. "Fundamentally, our goal is to provide high-quality care to our patients. We have embedded virtual specialist support within primary care practices so that PCPs and specialists can rub shoulders, ask questions, and learn from each other," says Cameron.
"We've long strived to improve the relationship between primary and specialty care to help improve chronic disease management," says Kevin P. Shah, MD, an internist and medical director of Duke Primary Care Innovation and Improvement, who works closely with Cameron. A primary care practitioner, Shah also holds a master's degree in business administration that informs his perspective.
Duke Nephrology now offers PCPs simplified access to electronic consult recommendations in cases where a specialist visit is not required or desired. The team has created standardized CKD treatment maps offering initial treatment steps for PCPs. Face-to-face specialty care can be burdensome for patients. For a variety of reasons, up to one-third of patients fail to see specialists after being referred by their PCPs.
"CKD is a major challenge for patients and PCPs. It is not just a nephrology issue," Shah says. "This work with Cameron and DIHI highlights how Duke is pioneering new programs to reimagine how we manage chronic diseases."