Pioneering Initiative Eases Transitions of Care for Older Patients
Published
December 20, 2016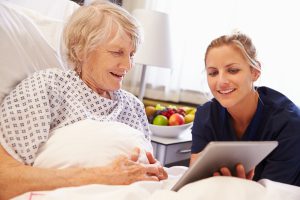 A pioneering geriatric care initiative aims to reduce avoidable hospital readmissions by engaging patients, families, hospital staff, and skilled nursing facility (SNF) professionals to ease the transition from hospital discharge to rehabilitative care.
Developed and piloted by Duke University Hospital in 2013, the Health Optimization Program for Elders (HOPE) is growing as the project concludes its third year.
HOPE was started as a pilot program serving geriatric patients at hospitals, producing a trend toward fewer 10- and 30-day readmission rates in its first year. None of the hospital readmissions were for the conditions that triggered the initial admission.
With the addition of a skilled full-time nurse practitioner with experience caring for frail older adults in 2016, the number of patients and families touched by HOPE doubled.
Engaging more than 10 patients each week, HOPE works with the general medicine service. Requests for consultations are rising. Leaders are optimistic and moving forward with growth plans, but they caution that a definitive analysis of hospital readmission rates will require more time and patient data.
While visiting with patients and families before hospital discharge and following up with a call or visit within 72 hours of admission to an SNF, Colette Allen, NP-C, of HOPE prepares families for rehabilitation. "Any transition for an older patient is challenging," she says. "I'm available to answer the questions of the nurses, therapists, and medical providers after their evaluation." A rehabilitation plan helps bring patients back to their baseline functionality as comfortably and quickly as possible.
Allen reviews elements important to the patient's transition, including medications, bowel regimen, risk of delirium, mood, pain management, discharge documentation, therapy plans, and follow-up appointments.
"HOPE has a clinical objective but also a collaborative quality-improvement mission," says Heidi K. White, MD, a geriatrician and vice chief of clinical affairs in Duke's Division of Geriatrics. "We see many advantages in the linkage between health care professionals from the hospital and SNFs. By meeting monthly for the past 3 years, we have identified several transitional care issues that can be enhanced," White adds. "Improving medication reconciliation, managing nursing handoffs, and providing discharge documentation are starting points."
White was one of several geriatricians and health care professionals concerned about care and information gaps between hospital discharge and admission. She has worked with peers to guide HOPE from concept to pilot to measurable operation.
The SNF staff appreciates the value of open communication channels provided by the monthly workgroup, HOPE leaders say.
The collaborative information sharing and planning has also produced unexpected benefits, says William English, MBA, MSHA, the administrative manager at HOPE. "HOPE exists primarily to reduce unnecessary hospital readmissions for frail elders, but there's so much more that can come out of this," he says.
As patient volume grows, English predicts the metrics demonstrating HOPE's value proposition will become clearer. "We certainly see growth in patient volume and reduced readmissions," says English. "But HOPE has also become a planning group, linking clinicians, nurses, and SNFs. We see a high-value, long-term upside."