Pelvic Mass Threatens Woman's Fertility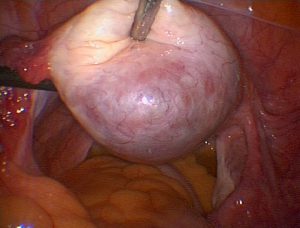 After an OB/GYN detected a firm mass on the pelvis of a 43-year-old woman with uterine fibroids, she ordered an ultrasound. Ultrasonography confirmed the presence of a small, complex mass, but it was not clear whether the mass was cancerous. Her cancer antigen 125 level was slightly above normal—46 U/mL—but her human epididymal protein 4 level was normal.
The patient was referred to Duke Gynecologic Oncology for a second opinion. Follow-up imaging confirmed the presence of the mass and suggested that it had grown. Gynecologic oncologist Angeles Alvarez Secord, MD, discussed possible treatment options with the patient, who wanted to try to maintain her fertility.
Question: What approach was taken to minimize risk to the patient's fertility and maximize her future chances of conceiving?
Answer: Secord and her colleague Angel Nieves, MD, PhD, performed hysteroscopic and robotic-assisted myomectomies to remove 2 fibroids and used minimally invasive surgery to resect the mass, which turned out to be an endometrioma. Secord then referred the patient to a specialist in the Duke Fertility Center to help the patient explore her pregnancy options.
It's important to discuss treatment options with patients and ensure that they're not making a decision they will later regret, Secord says. Because this patient thought she might want to have children in the future, it was important to start with a minimally invasive approach, diagnose the mass, and then, if further treatment was needed, reassess.
"The robotic platform is a great approach to offer people minimally invasive surgery and a faster recovery time, especially for these myomectomy procedures that may be more difficult using a laparoscopic approach," Secord says.
Secord removed a 6-cm subserosal fibroid and the mass using robot-assisted minimally invasive surgery, and Nieves removed a submucosal fibroid hysteroscopically. Pathology revealed that the ovarian abnormality was an endometrioma and the patient would not need further surgery or treatment. After the surgery, her symptoms of discomfort due to the endometrioma and fibroids were alleviated.
The patient's care shouldn't stop with a successful surgery, however, Secord emphasizes: "The most important thing is that, if you have someone who desires future fertility, after surgery, you need to connect them with a reproductive endocrinology and fertility specialist so they can move forward and start to operationalize their plan—doing what they need to do to have a successful pregnancy."
Cases like this illustrate the expertise of Duke's Divisions of Gynecologic Oncology and Minimally Invasive Gynecologic Surgery, particularly their special training in advanced laparoscopic surgery, notes Craig Sobolewski, MD, chief of the Division of Minimally Invasive Gynecologic Surgery. Importantly, challenging cases can be managed using minimally invasive approaches that can reduce patients' risk of larger incisions, bleeding, infection, and pain, as well as decrease the recovery times. 
Sobolewksi comments on the future of micro-laparoscopic surgery: "Our division can treat endometriosis, ovarian cysts, and other benign gynecologic conditions using micro-laparoscopic instruments—as much as 50% smaller in diameter than the traditional instruments, further enhancing the benefit of these less invasive surgeries."